Owner & Director - Dave Marsh
Hello I'm Dave, the founder and owner of Home Instead in Stevenage and North Hertfordshire. Before deciding to open Home Instead with my wife Karen, I spent over 30 years serving the needs of teams and customers. Having worked in care for over 12 years, I believe there is still a lot of work to be done to bring standards of service in the care sector up to standards of customer care we take for granted in many other service industries. I've chosen to make a positive contribution to that by opening Home Instead in this area.
I aim to deliver the very best standards of leadership, management and training to those who chosen to serve and care for the more vulnerable in our society. I aim to enable our clients to take control of their lives and fully respect their unique preferences; I aim to deliver relationship based care where independence is nurtured and encouraged. I aim to arrange for your CAREGiver to be the same person who will know you, your unique preferences and needs. I aim to make a positive difference one CAREGiver and one Client at a time, and I am proud to serve our fantastic team and our remarkable clients.
Owner & Director - Karen Marsh
I am thoroughly enjoying being back at work now that our two children are older and more independent. Dave and I made the decision to start our Home Instead business as we wanted to do something that really makes a difference to people's lives in the communities of Hitchin, Letchworth, Stevenage and surrounding towns and villages. Every day we are providing high quality care to our clients which helps them to remain at home and be independent. We match our CAREGivers very carefully to our clients which means they build lovely relationships and our clients and CAREGivers look forward to seeing each other every visit. I cover quite a lot of the admins side of our operation and provide support and guidance for our CAREGivers. I find the experience very rewarding and am very proud of the quality service that we are delivering. The relationship that we have developed with our clients and CAREGivers is first class and we consistently receive fantastic feedback from both.
Registered Care Manager - Fiona Halliwell
I met Dave & Karen the year prior to joining them in 2016. Like others I was impressed with their determination to be of outstanding service to clients. Working with Home Instead I have seen the profound difference it can make to others quality of life. It is a fantastic feeling to witness how by carefully matching our clients to CAREGivers our clients have been able to stay in their own homes, living just as they wish and having professional and reliable support with daily living tasks. As Registered Care Manager I am typically the one who will meet our Clients for the first time. From that initial first meeting I listen carefully to your concerns, take note of the little things that are as important to you as well as your preferred routines so that the plan of support we create together will match your needs perfectly. I regularly meet up with families and clients to make sure our service suits changing needs and is working well. The work is so valuable and it gives me a huge a sense of achievement to support Clients and provide reassurance to families.
I live in Stevenage with my Husband Sean and two dogs Archie and Jake. I'd be delighted to just chat with anyone who has an inkling that companionship to the elderly might be something they'd enjoy. I'm just a phone call or email away. 01462 600462 Fiona.halliwell@homeinstead.co.uk
Care Coordinator – Maisy Hockey
I started working at Home Instead as a CAREGiver in 2017, and fell in love with the job. Helping people maintain their independence in their own home gave me a fuzzy feeling, and offered me so much more than any job I had previously done. When I heard the Care Coordinator was leaving, I jumped on the chance to put my office skills back to good use in such a rewarding environment. My mission is to help our little company grow to help keep more people in the North Herts area at home. I liaise with clients and CAREGiver's to find the right matches, and ensure reliable care is provided throughout the year. The work I do helps CAREGiver's build meaningful relationships with their client's, built on trust and understanding.
I live in Knebworth, with my partner Alex and cat Busby. If you need to speak to me, just call the office on 01462 600 462, or email me at maisy.hockey@hisc-stevenage.co.uk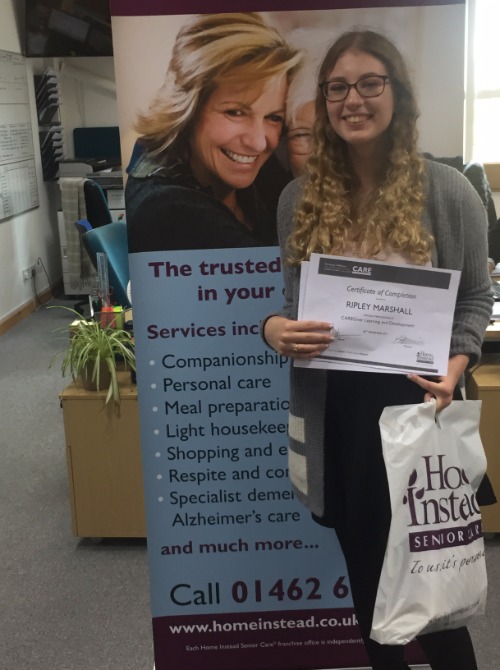 Our Superheroes!
The main reason for our success are our CAREGivers... they are our Superhereos. They are the reliable, trustworthy and always have a smiling face. In the photograph you can see one of our newest recruits completing her Induction training program.
At Home Instead we don't believe in uniforms as they act as a barrier to the type of relationship we hope to establish with our clients bt we do wear our Home Instead Senior Care ID badge. You can pop over to our main Admin team at our offices in Letchworth- ring 01462 600462 and speak to Lorraine or Karen.
The next picture of our Superhero could be you!