The results are in for our 2018 Annual PEAQ (Pursuing Excellence by Advancing Quality) survey and we're delighted to announce that our clients and caregivers have once again given us excellent scores and feedback. Below is a snapshot of the survey from our Oldham & Saddleworth office.
At Home Instead, we take client satisfaction very seriously, it sits at the heart of everything we do. We're pleased to report that our clients have yet again given us the vote of confidence with 100% telling us they would be happy to recommend Home Instead to family and friends.

At Home Instead (Oldham & Saddleworth), we pride ourselves in carefully matching our CAREGivers with clients through shared hobbies and interests. We really take the time to get to know the people we care for and this is reflected in the survey results that 94% of our clients felt their CAREGiver was well matched to their needs. The results also showed that 100% of clients felt their CAREGiver was properly introduced before they started working with them - something we feel is important.

As a client, you need to be assured of a reliable and trustworthy home care service. Our results show that 96% of clients said their CAREGiver arrives on time and 98% say the office team always communicate any changes to the scheduled visits in advance.

We also know that if we have happy CAREGivers, we will have clients who feel valued and respected. This is why we make sure that our CAREGivers are fully trained and are genuinely warm, caring people who take the time to make trusted relationships with their clients. 98% have told us that they are proud to work with Home Instead and 100% would also recommend our services to a friend, which is praise indeed.
Mick Sheehan, managing director of Home Instead in Oldham & Saddleworth said "Once again I'm absolutely over the moon with the results. It just goes to show what can be achieved if you employ the right people, give them the correct training and support, and most importantly give them enough time to do their job properly. A huge well done to all the team!"
The PEAQ survey was completed independently by Smith & Henderson http://www.smithhenderson.com and is now in its seventh year.
At Home Instead we are extremely proud to be living our mission 'To become the UK's most admired Care Company through changing the face of ageing'.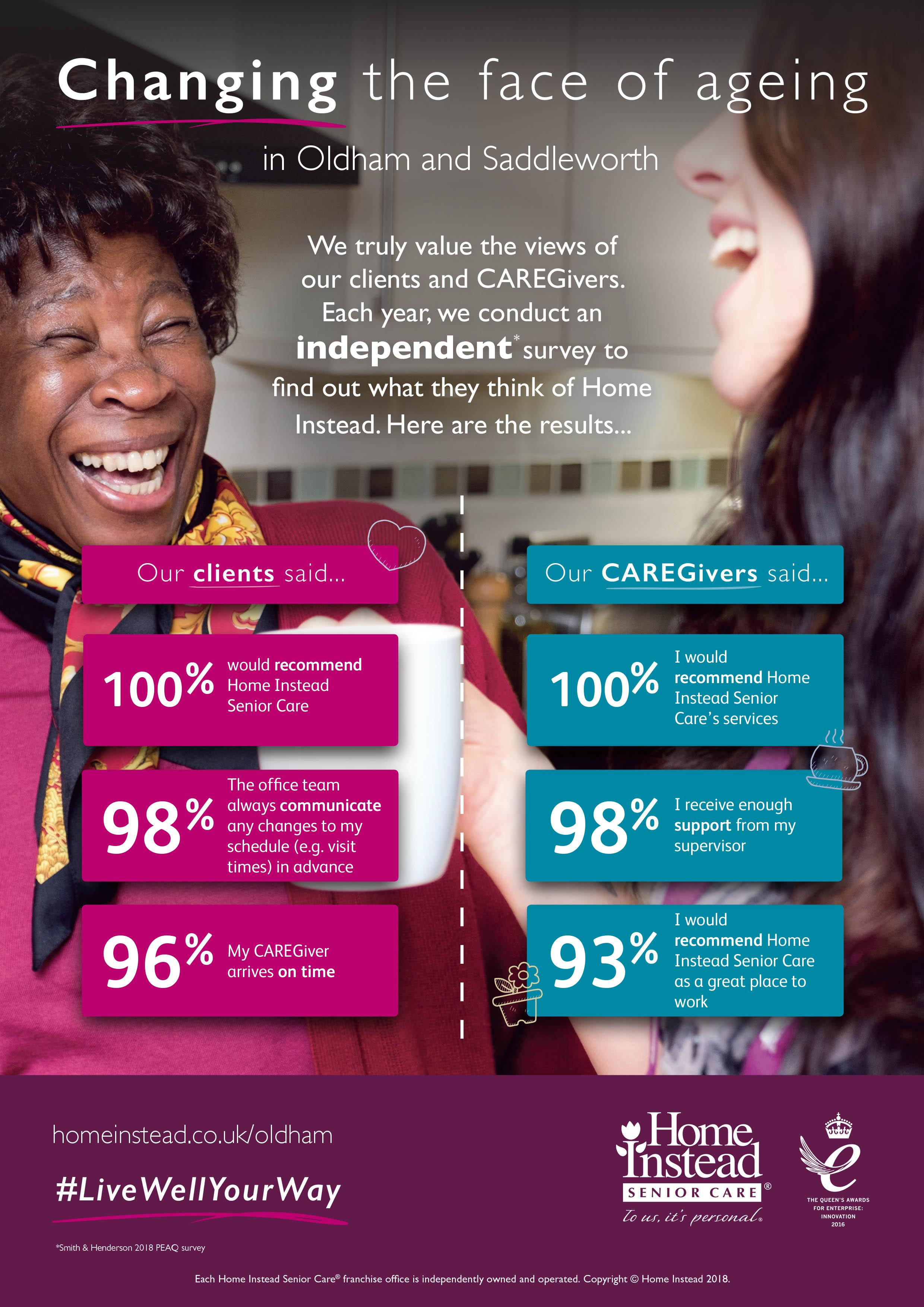 Frances H (Niece of Client)
For the past five years Home Instead have been caring for my auntie, they are without doubt an incredible team of care workers. Without their commitment and support, I know my auntie could not remain in her own home. They have placed my aunties needs at the centre of every decision and are always quick to act and adapt the care package when needed. My auntie sees her carers as friends and she is very happy, this gives me confidence and reassurance that auntie is safe in her home. During this time of coronavirus, it's been even more obvious how committed Home Instead are to supporting my auntie. I wholeheartedly thank them for everything they do day in day out. I owe everyone at Home Instead a debt of gratitude.
Virginia S (Daughter of Client)
I would just like to say how grateful I am to Home Instead, who provided care for my father whilst he was living in Saddleworth. Every single carer that helped my father was so amazing with him, and I really couldn't recommend them enough. A really excellent team. I know that he was very happy with the level of care and support provided by all. Thank you.
Sue B (Friend of Client)
We were recommended Home Instead when our friend and neighbour needed care. We were introduced to the carers who would be involved in the visits, and communication with office and carers was always excellent, the carers never failed to turn up and always on time. Whenever we needed support from Home Instead it was always there, whatever time of day they were excellent in providing the care and empathy that was needed.We have no hesitation in recommending Home Instead, their service was superb and often beyond the call of duty.
Cath B (Daughter of Client)
I cannot recommend this care company strongly enough. I have a demanding job and have been trying to manage two declining parents - for the last 18 months this service has been an absolute Godsend. The carers are matched to the clients as much as possible, you get the same person each day (and the same person providing holiday cover) so my parents are totally comfortable and trust them. The carers are always on time, professional, friendly, treat my parents with respect but with the right amount of jovial banter too. They have pro-actively noticed and dealt with health and well-being issues before I was even aware of them. As my parent's health has declined it has been easy to step up the number of hours care needed. Management have been very sympathetic - accommodating issues that have needed carers to occasionally stay a little longer than scheduled - and their communication has been superb, responding to emails and texts when the office is closed. You won't regret using this company.
M P (Daughter of Client)
I cannot praise Home Instead and especially the carer they provide for my father highly enough. He has Alzheimer's and his condition has deteriorated considerably during the last 12 months. They have been supportive, considerate, flexible, utterly reliable and always understanding, at times going out of their way to help both my father and myself as I live some distance away. As a company, they were highly recommended to me and they have more than lived up to this.
Emma H (Granddaughter of Client)
A wonderful service that has helped my Nanna and our family hugely. The carers are very friendly and approachable and the management is brilliant. They are quick to respond with any problem and have put our minds at rest knowing my Nanna is in good hands.
Lis C (Daughter of Client)
Excellent, compassionate, sensitive, reliable and professional service from all staff involved so far. We have only had care in place for a month but despite the challenging needs of both parents, my family have felt very reassured by the input of Home Instead staff. All are very skilled. We receive contact immediately if the staff have any concerns. Communication is key to this type of care and it has been excellent. Staff providing the direct care were very experienced, and we feel we can have helpful and open conversations with them. They pick up on lots of important issues and are keen to address these. They have made helpful suggestions, are keen to understand the needs of the clients and their family, recognising that these are not necessarily the same. More than happy so far and wholeheartedly recommend them.
Marie G (Daughter of Client)
My mum had care increasing from 1 hour a day to 3 hrs a day. An amazing service by a professional team. Mum loved them. They gave wonderful support to her in every way - nothing was too much trouble. Dignity and respect always. Reliable and trustworthy. Our family owes them such gratitude.
Frederic J T (Nephew of Client)
We as Nephew and Niece, have used their services for over 2 years for a full night cover and during the day at different times to look after our Uncle.Once the rotas were up and running and we had got to know the carers, we were happy to let them do their job. They are after all the experts.We were contacted by them or their office as and when it was deemed necessary, and any problems were quickly and smoothly sorted out.Because of the genuine concern and quality of care shown to our Uncle, we were able to step back and carry on with our own lives.But more importantly, the effect they had on our Uncle was so positive and happy that he is still going as strong as a 98 years old can.We would have no hesitation in recommending Home Instead.
Duncan M (Son of Client)
Can I please pass on our heartfelt thanks to all the carers that have looked after my Dad over the past few years. The Caregivers were excellent and their attention to detail and friendship to my Dad helped him to stay at home as long was feasibly possible. You have been great to deal with and always considerate to my support requests and I thank you for this. Oh, and my thanks to the office staff who have always been very helpful and have been great.
J L W (Daughter of Client)
As a family, we are so grateful for the care my Mum and Dad receive. It makes a huge difference to their lives, and that makes a difference to mine, as you can imagine! Our Carers brighten their days no end. We really do have the best care team, not just for the basics, but for more besides. They both do the 'above and beyond stuff' whether that is sorting dangly ear-rings for Mum or baking a cheese and onion pie for them both (Dad has not stopped talking about this!!). And lastly, thanks, of course, go to all of the Team. You are an extremely professional group to deal with, but with a sound understanding of the problems your clients and their families face each day, and this is reflected in the manner of the team as a whole.
Paula S (Client)
I count all the carers I have had as friends and am pleased to welcome them into my house they are always cheerful and brighten the mood as we have fun chats and often encouragement from them to a more positive view on live when I'm down in the dumps. They also fulfil many tasks I ask within reason be it washing me personally or changing my bed or whatever. I am always sorry when the hour is over.
Doreen B (Client)
What can I say? You are certainly covering a lot of essential ground with regard to the special requirements of the elderly and their individual care. Your well trained, lovely carers help us through the day - always bright, caring and compassionate and ready to help - whatever - what a blessing! I like one carers visits which I think are very necessary. I cannot give any single act of care - there are so many - lets put it under one umbrella - Bless you. What would we do without you?
Hazel M (Daughter of Client)
The care delivered by Home Instead is exceptional. The same carer calls most days which I have found to be invaluable as they get to know the client and therefore are better able to give the appropriate care.The carers call at the same time each day, a very important part of the daily routine for my mum and dad who both have dementia. What may seem at first to be expensive is actually good value for money when compared to the care services given by the other companies I have used. If only all care companies delivered this level of care!
Joan M (Client)
Home Instead has given me really good care and service. My carers are lovely, treat me with great dignity, and very professional. The office staff are lovely to deal with, and do a great job organising my care. They are a brilliant company.
Jean M (Client)
When I first came home from hospital I didn't know what was going on. The staff were really marvellous with me. Nothing was too much trouble, they were well mannered, treated my home with respect and couldn't do enough for me. I lost a few days and couldn't remember things and the girls took it slow to put the pieces of the jigsaw together for me. I'm so happy with the girls, I feel they are like family. No one could have treated my home, family and myself with as much respect as these girls have.
S N (Daughter of Client)
I would recommend Home Instead without reservation. The care manager listened to our needs and concerns in order to offer us the most appropriate service and the care workers were kind, compassionate and cheerful - just what mum needed after a traumatic accident. A professional organisation with client care at its heart.
David P (Son-in-law of Client)
We found Home Instead Saddleworth to be an extremely professional, caring and reliable organisation at all levels. The office staff ensured that all contact that we had with them was actioned, calls were always returned and we felt that we had got some one that would never let us down and make every effort for us all. The carers were all extremely good. They were prepared to deal with any situation, major or minor, with good humour, while ensuring my father-in-law's dignity, privacy and safety at all times.
While they are not cheap, Home Instead Saddleworth deliver a high quality service and we are very grateful for their care.
J F A H (Client)
From the first telephone call to the last, I was and remain impressed by everything about this firm. Re-assured by the spotless smart offices and the friendliness and courtesy of the staff we met, outline arrangements were quickly agreed. I was given the confidence to return home to live alone (following my accident) under the care of Home Instead. It was clear that my problems were fully understood and everything possible was done to teach me how to cope with them and avoid any unnecessary pain. Adjustments to furniture and lay-out were made with skill, judgement and experience and any requests by me were met with courtesy and efficiency. Should the need for help arise again in the future I see no reason whatever to seek it elsewhere.
David G (Son of Client)
The Home Instead team provided exceptional service to my mother. They provided not only basic care, but a level of companionship and friendship which went well beyond the call of duty. Each member of the team was exceptional and I thank them for their wonderful service. I wouldn't hesitate to recommend Home Instead.
Mrs. H & Family (Relatives to Client)
You helped us through a very difficult time, often at short notice. We only wish we had come to you earlier.
Mrs. K (Relative to Client)
This has been a very difficult time for the family and your help and support was greatly appreciated. We'd especially like to thank Mary as the primary Carer for her patience and kindness and yourselves for your flexibility with our arrangements.
Zona H (Wife of Client)
Upon first meeting your care manager Helen Thomas, she was prompt, friendly and very professional. She explained everything fully, answered all our questions, which put our mind at ease and arranged for a carer to come. We have found that any carers who have come to attend to my husband have all been prompt, friendly and always treat my husband with dignity. He is 89 years old. I would recommend Home Instead to anyone who is looking for these qualities without hesitation.
 Simone (Relative of Client)
Using Home Instead was a joy from start to finish. Helpful informative polite staff and personal made to fit care package, with everything explained and the person being cared for treated with full respect. Excellent. Having been let down with many other firms, the level of care and information, in person and on the phone, was just superb. I would wholeheartedly recommend this company to anyone wishing to provide a carer to relatives and would book them again with no issues and mind at rest the person was being looked after as well if not better than I could.