The results are in for our 2018 Annual PEAQ (Pursuing Excellence by Advancing Quality) survey and we're delighted to announce that our clients and caregivers have once again given us excellent scores and feedback. Below is a snapshot of the survey from our Oldham & Saddleworth office.
At Home Instead Senior Care, we take client satisfaction very seriously, it sits at the heart of everything we do. We're pleased to report that our clients have yet again given us the vote of confidence with 100% telling us they would be happy to recommend Home Instead to family and friends.

At Home Instead (Oldham & Saddleworth), we pride ourselves in carefully matching our CAREGivers with clients through shared hobbies and interests. We really take the time to get to know the people we care for and this is reflected in the survey results that 94% of our clients felt their CAREGiver was well matched to their needs. The results also showed that 100% of clients felt their CAREGiver was properly introduced before they started working with them - something we feel is important.

As a client, you need to be assured of a reliable and trustworthy home care service. Our results show that 96% of clients said their CAREGiver arrives on time and 98% say the office team always communicate any changes to the scheduled visits in advance.

We also know that if we have happy CAREGivers, we will have clients who feel valued and respected. This is why we make sure that our CAREGivers are fully trained and are genuinely warm, caring people who take the time to make trusted relationships with their clients. 98% have told us that they are proud to work with Home Instead and 100% would also recommend our services to a friend, which is praise indeed.
Mick Sheehan, managing director of Home Instead in Oldham & Saddleworth said "Once again I'm absolutely over the moon with the results. It just goes to show what can be achieved if you employ the right people, give them the correct training and support, and most importantly give them enough time to do their job properly. A huge well done to all the team!"
The PEAQ survey was completed independently by Smith & Henderson http://www.smithhenderson.com and is now in its seventh year.
At Home Instead we are extremely proud to be living our mission 'To become the UK's most admired Care Company through changing the face of ageing'.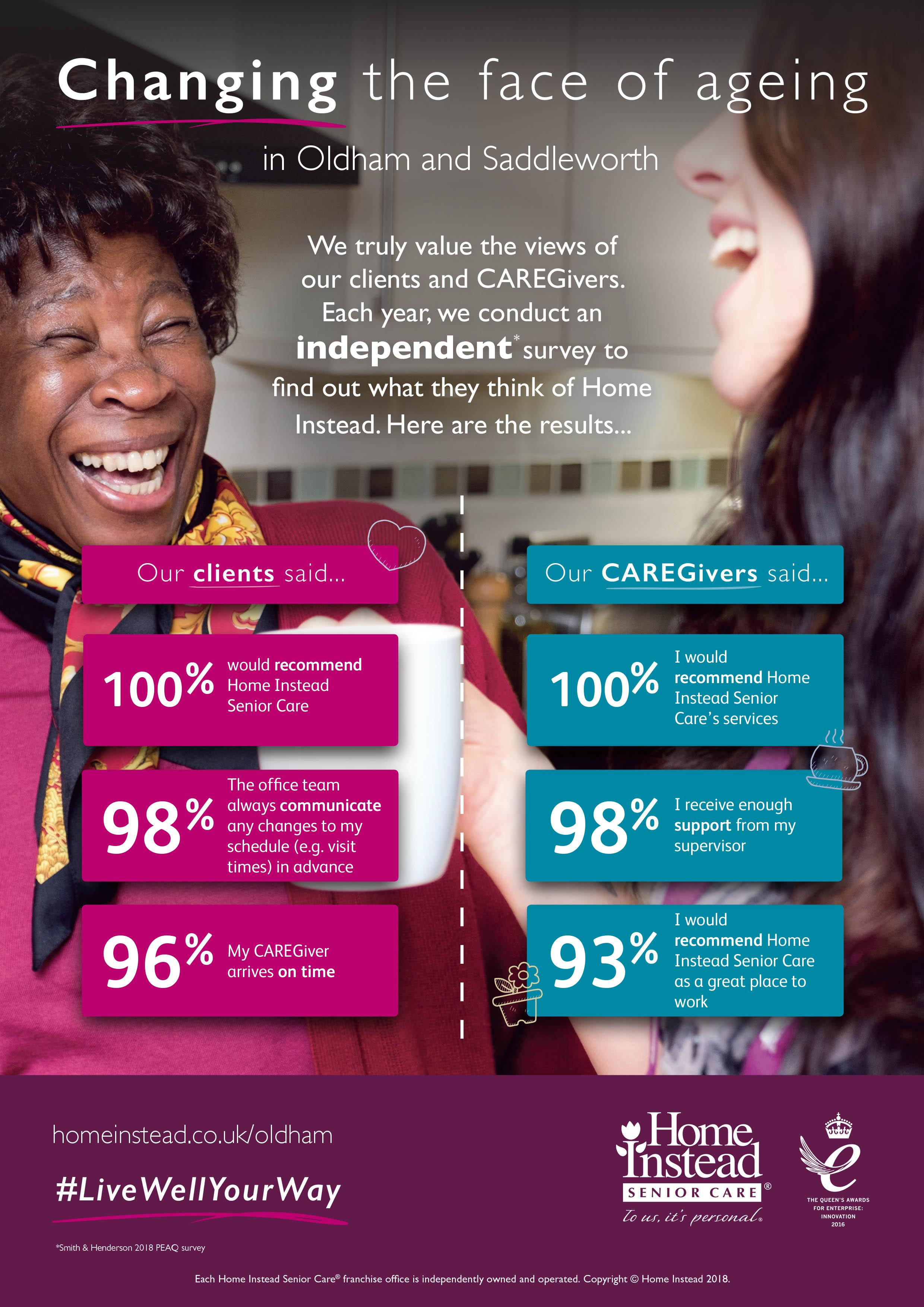 Simone (Relative of Client)
Using Home Instead was a joy from start to finish. Helpful informative polite staff and personal made to fit care package, with everything explained and the person being cared for treated with full respect. Excellent.
having been let down with many other firms, the level of care and information, in person and on the phone, was just superb. I would whole heartedly recommend this company to anyone wishing to provide a carer to relatives and would book them again with no issues and mind at rest the person was being looked after as well if not better than I could.
Zona H (Wife of Client)
Upon first meeting your care manager Helen Thomas, she was prompt, friendly and very professional. She explained everything fully, answered all our questions, which put our mind at ease and arranged for a carer to come. We have found that any carers who have come to attend to my husband have all been prompt, friendly and always treat my husband with dignity. He is 89 years old. I would recommend Home Instead to anyone who is looking for these qualities without hesitation.
Sue Fisher (Daughter of Client)
My mum has gained a new lease of life since I have started using the companion service. The service is invaluable and enables mum to get out and about whilst being cared for - cannot recommend highly enough.
 Jean T (Wife of Client)
Very good and reliable staff, particularly Helen Thomas the manageress.
Frank C (Client)
Very happy with the service provided by Home Instead.
Geoff W (Nephew of Client)
An excellent, caring service. Management and care staff were superb. Service provided was far in excess of that expected.
C M (Daughter of Client)
Overall we were very happy with the service. Dad has a small group of carers that know him very well which meant that they were aware of his needs - and that was reassuring for him and us. Quality of care was excellent - compassionate staff, who often went the extra mile and communicated with me at times of crisis.
All lived in the local community which was a bonus. It was a pity that the cost of visits meant that it was cheaper to move to residential care, when his needs increased (on top of living costs etc).
Margaret L (Daughter of Client)
Home Instead provided support and companionship to mum to enable her to live at home, in familiar surrounding where she was happiest. The carers were wonderful with mum and build a really positive relationship with her. Using Home Instead was definitely the right decision for mum and for me knowing mum was well cared for and supported.
David P (Son-in-law of Client)
We found Home Instead Saddleworth to be an extremely professional, caring and reliable organisation at all levels.
The office staff ensured that all contact that we had with them was actioned, calls were always returned and we felt that we had got some one that would never let us down and make every effort for us all.
The carers were all extremely good. They were prepared to deal with any situation, major or minor, with good humour, while ensure my father-in-law's dignity, privacy and safety at all times.
While they are not cheap, Home Instead Saddleworth deliver a high quality service and we are very grateful for their care.
J F A H (Client)
From the first telephone call to the last i was and remain impressed by everything about this firm. Re-assured by the spotless smart offices and the friendliness and courtesy of the staff we met, outline arrangements were quickly agreed. I was given the confidence to return home to live alone (following my accident) under the care of Home Instead. It was clear that my problems were fully understood and everything possible was done to teach me how to cope with them and avoid any unnecessary pain. Adjustments to furniture and lay-out were made with skill, judgement and experience and any requests by me were met with courtesy and efficiency. Should the need for help arise again in the future i see no reason whatever to seek it elsewhere.
David G (Son of Client)
The Home Instead team provided exceptional service to my mother. They provided not only basic care, but a level of companionship and friendship which went well beyond the call of duty. Each member of the team was exceptional and I thank them for their wonderful service. I wouldn't hesitate to recommend Home Instead.
Jacqueline M (Daughter of Client)
Home instead provided care to my mum between September 2015 and March 2016 until she went into a nursing home. The care they provided was excellent.From the initial meeting with the Manager,who clearly understood the type of care we wanted for mum (who had advancing dementia) we were reassured that this was a company who provided quality care. The carers were kept to the same ones so that my mum was able to develop a relationship with them and felt safe and secure. From previous experience,other agencies do not go to this effort and send a variety of different carers in with different levels of skills -in short,they were awful. Although Home instead were more expensive,we knew this was because of the quality of care they provided and in my opinion they were more than worth this extra cost. The carers who visited my mum were fantastic and were kind and caring people,obviously in the right job. I believed they genuinely cared about Mum's welfare.
Mrs. G (Oldham)
"Dad found the Home Instead service invaluable as it allowed him to remain at home and be independent which was very important to him. The family has been very grateful for the caring and professional nature shown by staff running the service"
Mr H (client's son)
I would like to thank you and your team for the excellent and highly professional service that you provided in the last few weeks in caring for D. I know D and J took great comfort from it and valued the service very much. Your care assistant Becky was exceptional and made both D and J feel very comfortable, knowing that D was being cared for in such a kind and understanding manner. 
M, Caregiver
Thank you so much for the opportunity to work with you all and for introducing me to so many lovely Clients.
SJ, Caregiver
Just a little note to say thank you for the chance to work for the company. I have really enjoyed it. I will miss all my Clients.
Mrs B, Oldham
Just a quick email to thank you and your staff, especially Helen for the card and your thoughtfulness shown to me and my family at this difficult time. It is much appreciated and a comfort to know that there are people who care.
Mrs L, Saddleworth 
Just a note to say thank you to you all for all the help, care & concern you have shown to us over the last few months
Lindsey (Daughter of Client), Saddleworth
Thanks for all you've done and for being there when you were needed, couldn't have done it without you.
John Howe - Solicitor & Relative of Client, Stockport
I have rarely been so impressed with the services of a care organisation.
Mrs. H & Family, Oldham
You helped us through a very difficult time, often at short notice. We only wish we had come to you earlier.
Mrs. K, Oldham
This has been a very difficult time for the family and your help and support was greatly appreciated. We'd especially like to thank Mary as the primary Carer for her patience and kindness and yourselves for your flexibility with our arrangements.
Mrs. H (Client), Oldham
Very professional and caring.
Mrs. M, Oldham
We are thrilled that Alan takes dad out and manages to provide him with male companionship.