Our amazing team
We're all very proud of the contribution each of us makes to change the face of ageing in our local community. We work well as a team which was recognised when we were awarded a rare Outstanding rating from the Care Quality Commission. It's so rewarding to know that we're making a difference. We also work hard to support our CAREGiver team who are out there supporting our clients every day.
Mahdi Kazemzadeh
Hi, I'm Mahdi and I have been the Director of Care and Continuous Improvements Officer at Home Instead Farnborough office since December 2017.
I have got Iranian heritage and prior to joining Home Instead, I spent 10 years of my professional career working in the engineering and energy sector – quite a natural choice for somebody originally from that part of the world! Whilst it was a stimulating industry to work in, where there is fast pace and travelling, I ultimately realised there was something missing. I found myself looking to settle down in one place and do something more personally fulfilling, something that would involve giving back to the community.
There was also another reason that made me start thinking about change. During my time as an undergraduate student at the University of Cardiff, I lived with a couple who became like my second parents. They are now in their mid-seventies and being still regularly in touch with them, I have witnessed how their health and physical strength are gradually deteriorating. That and the story of my wife's (Natalia) grandmother ensured me that involvement in elderly care could just be that rewarding new path in my career that I had been looking for.
I am grateful to have a wonderful office team by my side as well as exceptionally caring CAREgivers who are really passionate about helping and sensitive to the needs of our clients. It is heart-warming to hear from our clients and/or their families how happy they are and that, thanks to us, they can live independently in the safety of their own homes for longer. You really feel then that all the work is worthwhile! I also embrace the opportunity of meeting members of the local community in church groups, community centres, charities and so on to tell them about the great things we do.
In my free time, I enjoy most spending time with my wife whether it is during outdoor walks, cooking together, watching a movie or travelling!
Stuart Mitchell
I'm Stuart and I have just recently been promoted into a new and very exciting role of a Service Manager.
I have over 12 years of experience working in the care sector and have been part of Home Instead Farnborough since April 2016. I had initially joined the team as a Scheduler being responsible for ensuring everyone was in the right place at the right time, the role I thoroughly enjoyed! Now, I look forward to managing a well-led team and helping my colleagues become the best they can be in their roles. As a Scheduler, I had always felt I was making a real difference to people's lives here, something that I wish to continue in my new role.
I have personally found working for Home instead to be very different from any other care organisations I had worked for in the past. Home Instead really does put clients and CAREGivers first and I could not ask for a more supportive and friendly Team!
One of the things I really enjoy in my spare time is being around my family (nieces and nephews!) as well as… surfing and rock-climbing!
Natalia Lemanska-Kazemzadeh
Hi, I'm Natalia and joined Home Instead together with Mahdi, my husband, in December 2017.
I came to study and live in the UK from Poland, over 10 years ago. I am a Doctor in Criminology by academic background but I have spent the last few years teaching A-level Psychology at independent schools in London. Now, I share my time between the office, where I work three days a week as a Community Engagement Officer and one of the independent schools for girls in London, where I teach Psychology two days a week. I feel blessed to be able to fulfil these two roles as they are both immensely rewarding. One day I may be visiting a venue for our community event whereas the other, I may be teaching my students memory strategies as they plough through their exam content!
I truly value the work our excellent CAREgivers do on a daily basis – my own paternal grandmother lost mobility 10 years ago after an unexpected fall from the stairs (now, she also suffers from dementia) and, since then and to this day, it's always been my father looking after her, which has naturally put him under a lot of strain. That has made me realise how important it is for an elderly person to have somebody that one can trust and feel safe with in their own home, at the same time giving the family some respite. Every time I hear about (or read a card!) how we have improved our client's quality of life makes my heart grow. It also makes me happy that I'm in charge of organising the monthly event that offers our clients the chance to get together, chat and sing-along, all accompanied by tea and tasty cakes! Rewarding work and a lovely team – couldn't ask for more!
In my free time, I enjoy most spending time with Mahdi during outdoor walks, cooking together, watching a movie or travelling!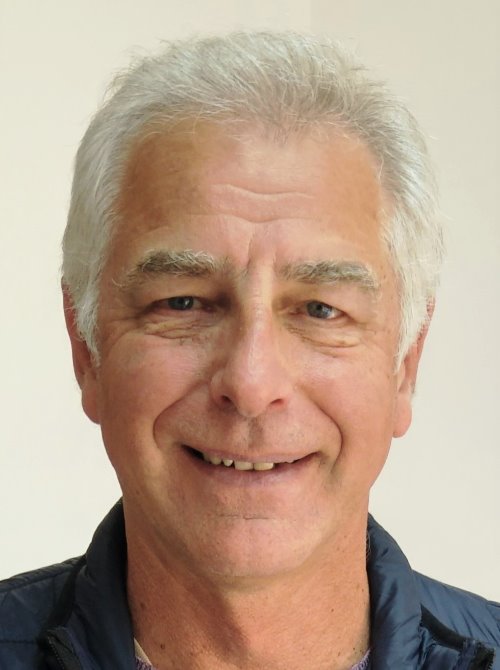 Tony Docker
I'm Tony and I joined the Farnborough team of Home Instead in March 2018 as the Head of Recruitment. I have spent the past 15 years in the charity sector both as the senior staff and a volunteer. My experience includes, for instance, the role of a Chief Officer for the Runnymede and Spelthorne branch of Age UK. It is a charity providing support, transport and social activities for elderly people. This has been complemented by years of volunteering at The Samaritans and The Vine Centre - enabling and empowering vulnerable people.
The experience in the charity sector coupled with that in sales and retail spanning altogether four decades has given me extensive knowledge, understanding and the unique perspective with regard to the needs of the elderly people. I have become acutely aware that with the changes in social care funding, more and more elderly people are struggling to get the care they need. Home Instead provides holistic support from companionship to personal care at an unrivalled price/quality ratio and our CAREGivers are second to none in terms of their professionalism and compassion.
The two things that really appeal to me about the team at Home Instead Farnborough are the friendliness of my colleagues and that they have been rated as "Outstanding" by the Care Quality Commission. I wish to play my role in ensuring that we are on top of our game providing quality service to our clients.
In my free time, I am keen on staying very active - I enjoy running. gym work and cycling and... my motorbike! I'm also a keen sports fan, football, rugby, athletics, almost anything, plus, of course, following my beloved Tottenham Hotspur!
Karen Dowie
My name is Karen and I am a Trainer at our office. My role is to help our new CAREGivers learn about Home Instead's unique service and person centered ethos. Home Instead is passionate about supporting CAREGivers and one of the ways we do this is by providing ongoing training. My part-time role is interesting and rewarding because I am working with CAREGivers who genuinely care about what they do. In my free time, I enjoy all things creative and especially like to paint and draw.
Scarlett Randell
Hi, my name is Scarlett and I am the New Client Manager at Home Instead. I enjoy how varied my day to day role working alongside the Care Manager can be, from answering queries and updating care plans to meeting new clients and finding out about their needs, and their interesting lives.
I had spent five years working as a housekeeper so this role has been a big and exciting change for me. I spend my free time writing short stories and entering competitions - I've won all sorts of prizes from a box of pretzels to a 3 day cruise!
Alannah Loveday
Hi, I'm Alannah and my role is Field Care Supervisor. I work alongside our Quality Manager, arranging regular client reviews and ensuring we're all compliant with the most recent legislation.
It's lovely getting to know our CAREGivers and our clients through the work that I do. I also get the opportunity to go out and provide care to some of our clients, which helps me learn a lot more about the people we visit; I see what a difference we can make to each individual. Working for Home Instead has been different from anything I had done before and has allowed me to develop and learn new skills whilst being part of a friendly and caring team.
I am currently studying counselling in my spare time and I have completed both my Level 1 and 2 in Counselling Skills (awarded by the CPCAB -Counselling and Psychotherapy Central Awarding Body). I plan to continue studying and, hopefully, achieve my degree in Counselling over the next few years.
Natasha White
Hello, I'm Natasha and I joined the Home Instead Farnborough team very recently – in March 2018 – as a Recruiter. My role mostly involves devising new ways to identify and encourage CAREGivers to apply for the role, and then running the interview process making sure we select the very best candidates for the role. If not in the office, you can see me 'out there' in the community, hosting recruitment events and spreading awareness of Home Instead!

Having previous experience in the areas of both Recruitment and Care proves immensely helpful. It allows me to better relate to all our CAREGivers and helps me make their experience the most enjoyable and fulfilling. I take a lot of energy from working with a team of such hard working and passionate individuals.

As a bit of a fitness and healthy lifestyle freak, I would usually spend my free time Body Building (I studied for Sport & Exercise Science qualification beforehand).
Andrea Carter
Andrea Carter is our Senior CAREGiver and has been with Home Instead since 2012. She has vast experience of the many conditions our clients may be living with. She has also been a point of contact to advise other CAREGivers in our Team. Andrea has some on-call responsibilities, and also assists in new CAREGivers training.
Our amazing CAREGivers
Our fantastic CAREGiver team delivers thousands of hours of care each month. Each and every one of them is special, with ages ranging from 21 to 73.

When someone says they would like to be a CAREGiver with us, we know it takes a certain type of person who wants to make a difference to someone's life, to be successful in this role. So, to us a compassionate nature and excellent training is much more important than lots of care experience.

Thank you to all our wonderful CAREGivers who really are changing the face of ageing.