Tony Hussain - Business Owner
I'm Tony Hussain. I am the owner of the Ealing office which I opened in September 2008. Prior to Home Instead Senior Care I had my own Property Management and Mortgage Business. I am very much a "hands on" owner and enjoy networking with my local community and building relationships. My role is to manage and grow the business, which I do on a day to day basis. I am there to support my staff and CAREGivers and ensure that we maintain and continually improve our operation to achieve the best possible outcomes for our Clients. I am very proud of what we have achieved to date. I particularly appreciate how Home Instead Senior Care can make a real difference to people's lives in their own homes, as well as providing employment opportunities in the community. I am passionate about making a difference to people's lives, by providing exceptional care for older people in the local area.
Stuart Jarvis - Mentor
As a Mentor, my responsibilities stand by the Home Instead Senior Care motto: to care and encourage other CAREGivers to care. I chose Home Instead Senior Care in March of 2015, as care was the obvious next step in my life and to help others. Getting a smile from any of my clients brings me the most satisfaction and encouraging others to give care has given me achievement, knowing that I am able to assist others through any given situation.
Our Lovely CAREGivers
Home Instead Senior Care-Ealing have over 80 CAREGivers, many of which have completed their NVQ in Health & Social Care. The CAREGivers, who have worked for up to five years with us, enjoy giving something back to the community by caring for our clients. In doing so, their invaluable hard work and commitment makes a difference to the lives of the young and elderly in the area every day.
Manisha Fazel - Care Manager
I started to work with Home Instead Senior Care in February 2009. I started as a CAREGiver and was promoted firstly to a Scheduler in May 2009, and recently as the Care Manager. I have the day to day responsibility for the wellbeing and welfare of our clients and CAREGivers, whilst ensuring the delivery of the services we provide meets the requirements of our Clients and their families. Regular contact with clients is crucial and, as well as carrying out our scheduled Quality Assurance visits, I often visit clients just to see how they are getting on. Since joining Home Instead Senior Care I have become very passionate about care and the way that it is delivered and I have a great team here in Ealing. To us, it is personal. I have completed my NVQ 3 qualification and have commenced training for my NVQ 4 in Leadership and Management of Care Services.
Louise Whiting- Deputy Care Manager
I joined Home Instead Senior Care in June 2018. As a deputy manager, I am responsible for providing the highest standards of effective leadership and promoting a caring and supportive environment, whilst ensuring the delivery of the services we provide meets the requirements of our Clients and their families. I started my journey in Care in 2012, as a caregiver, throughout my years in domiciliary care, I have done a number of roles and have gained extensive experience of working with vulnerable adults. I enjoy training and keeping up to date with current skills and legislation. I have also completed my level 2 and 3 in Health and social care. I am currently working towards completing my level 5 in Leadership and Management of Care Services.
Pat Scudder - Training Manager
I joined Home Instead in February 2013 to be a CAREGiver, as I have a great passion to care for people who are in need. I was promoted to a Training Manager prior to my 15 years of experience of working with people with learning disabilities. My strengths in communication and have enabled me to work with the priority of our clients, mentoring, care certificate handling, and employee training. I enjoy caring for people who allow me to make a difference in their lives and watching new CAREGivers develop and grow, knowing that I train great, creditable CAREGivers. Overall, my position has allowed me to experience what I most enjoy about my job - catering to the needs of those who are around me.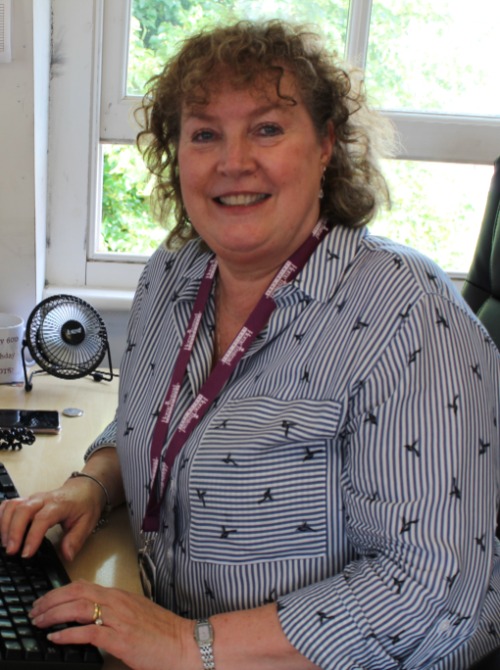 Caroline Corcoran- Trainer
I have worked for Home Instead for 5 Years. I first joined Home Instead as a Carergiver after completing a year in the NHS as a student Midwife. This was my dream role.I joined as a Caregiver and I loved my clients, I had a very good relationship with them all. I then moved on to Networking and Recruitment. I found my second dream role as a Trainer with Home Instead. I have lots of experience to share with the New Caregivers throughout their training. I thoroughly enjoy teaching new Caregivers and helping them to understand the importance of not 'Good but Excellent' care. We want all our Caregivers to leave their induction training feeling confident and knowing they can always call me if they need some reassurance or further training.
I believe in the Ethos of Home Instead and I will ensure our caregivers do too!
Leemya Abdalla- Community Liaison Officer
I joined Home Instead Senior Care in April 2018 because of the positive difference they are making in the community as well as the opportunity to work with the experienced, friendly and passionate team at the office.
As a Community Liaison Officer, my responsibilities are to communicate and coordinate activities, raise awareness within the community and overall promote the Home Instead Senior Care brand. Whether this be face to face, through social media, online communication, or entry writing through our online blog. I find that by working with others around me, it has enabled me to bring out my most positive self, while being given the chance to learn something new everyday through our inspirational CAREGivers and our uplifting clients.
Genine Carbon- Scheduler
I have recently joined Home Instead Senior Care in June 2018, as a part time Scheduler. My responsibilities include scheduling services for clients and organising rotas.
My strong communication skills enable me to liaise with our CAREGiver's and clients to ensure all their needs are met. I believe as a Scheduler it is important that services for clients and rotas meet everybody's needs.
I believe I am making a difference to our client care service whilst having the good fortune of learning something new everyday.
Rob Overfield - Administrator
I joined Home Instead- Ealing as an Administrator in July 2018 after spending many years in the commercial world of insurance. I have been involved in Administration for a number of years, both in my professional life and also as a hobby as I am the fixture secretary for a non-league football club in the area. I heard many good things about Home Instead in recent years and the great work they do for the community. This made me keen to contribute to the positive difference they are making to the lives of their clients and CAREGiver's.
I look forward to using my knowledge and expertise for the benefit of Home Instead Senior Care for many years to come.
Harpreet Sura- Recruitment Manager
I joined Home Instead Senior Care-Ealing in September 2018 as the Recruitment Manager.
My day to day activities include networking in the community in the search of potential superstar CAREGiver's, taking enquiries and following up leads.
I enjoy working for Home Instead Ealing as it has a great friendly and warm atmosphere which builds the right culture in our office for our amazing CAREGiver's, by having an open door policy for all.
I have previously worked for Tesco, doing various roles. My favourite being within the People team, helping and advising colleagues on policies and procedures. My biggest achievement was within recruitment where we set up and created connections within the community, allowing us to help individuals get the right job for them which then brought our vacancies down to single digits and in turn supported the operational needs of the business. I then found this incredible opportunity with Home Instead, which has allowed me to work for a large, established but ever growing company to start and build my career. I chose this role as I have always had an interest in the health care sector, making this the perfect opportunity for me to be able to contribute to the health and social care industry. My previous experience and my enjoyment of communicating with people and helping them build their careers, has made this my ideal role.