David Coldrick - Managing Director
I was a partner in a local law firm until I decided to make the break. My work was mainly on behalf of older people and vulnerable people. I enjoyed it but it made me realise that most people struggle to get decent care which is; reliable, responsive and properly trained.
Some elderly at home care provision is good, but equally often carers fail to turn up, on time or even at all. It sometimes seems impossible to get the same carer twice and when they arrive they often have to rush due to unrealistic time schedules. I also remain worried about failures in checking carer's credentials and about the lack of basic training, especially in safeguarding.
I was immediately impressed with the refreshingly different, and highly professional, approach of Home Instead Senior Care. Being a fan of local business and wanting to make a positive difference to individuals and my community, it was quite natural to want to open the Rotherham branch.
Growth and jobs are also on my agenda as Vice Chair of Rotherham Economy Board and I am also pleased to offer free information sessions as a local Dementia Champion trained up by the Alzheimer's Disease Society. Apart from work I love gardening, engaging in local events and driving old army tanks. I dislike shopping and broccoli.
Katie Woodger - Senior CAREGiver
Hi I am Katie - A Senior CAREGiver at Home Instead Senior Care Rotherham. I always look forward to going into work for the challenges it brings that day. I am passionate about what I do and I feel I can enrich the lives of others.
I feel really valued by Home Instead Rotherham who care about all their employees. They see me as an individual and have invested in my future.
Natalie Snow - Care Manager
Natalie Snow joined Home Instead Senior Care in May 2016. She has a BSc in Psychology and has worked within the Health and Social Care Sector since 2009. Natalie says:
'I worked initially in Supported Living Services and Home Care Services until 2012 when I became a member of Rotherham's, award winning, Social Prescribing Service. That involved assisting GPs to offer non-medical support to individuals with Long Term Conditions.'
'I come from a small, close knit, family and have supported my mother who has a progressive disability from a young age. I have felt the pressures navigating services in search for quality and trustworthy support for my family. Through supporting individuals in subsequent job roles I have witnessed much the same.'
'It has been an enjoyable experience joining the team at Home Instead Senior Care Rotherham. All staff are driven and committed to providing quality support to clients and go the extra mile to ensure we provide the optimum level of care. With years of experience of the care sector between us we are able to offer as much support as clients and families require.'
Sarah Humphrey - Care Quality Lead
I have always wanted to make a positive difference to people's lives and have felt strongly about the standard of care people receive. I joined Home Instead Senior Care Rotherham in May 2014, initially as CAREGiver, after finding a leaflet in a local medical centre.
I found that the person centred, minimum hour, regular visits with my Clients meant that I really could make that positive difference to their lives.
I completed QCF Level 2 and Level 3 in Health and Social Care and progressed to Senior CAREGiver and then to Care Quality Lead and now, with further training, Assistant Care Manager which is my current position within the Company.
Apart from certain training duties, I oversee all care quality matters, work closely with our Care Manager, carry out regular audits of our paperwork, support visits with our CAREGivers, Service Reviews and Quality Assurance visits.
Outside of work I enjoy long walks with my two dogs, Billy and Sam.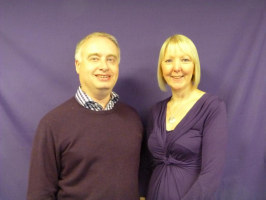 Karen Coldrick - Administrative Director
I worked for many years in children and young people's services both in Rotherham and Sheffield. But it was my family experience of poor care provision for older people, who want to stay at home, that helped me decide Home Instead Senior Care was right for me.
As a family we became increasingly upset and frustrated by the lack of continuity of carers, missed visits with no notice given, carers not being there for the agreed amount of time and not being able to speak to the relevant person or receive a response when a message had been left by us.
Home Instead Senior Care instantly appealed because of its focus on personalised, high quality, one to one care. Its quality controls also ensure we run an administratively tight ship. For instance every Caregiver is properly screened and insured.
In my spare time I love looking after our grandson, going on country walks and I also have a black belt in Pilates! I dislike shopping as much as David but hate wet weekends even more.
Al Walsh
Al supports CAREGivers from application, through training and beyond to meet their aspirations
Natalia Muscroft
Natalia (pictured left) is part of our Office Support Team.
Joanne Athey - Senior CAREGiver
Hello everyone!
My name is Joanne and joined the team at Home Instead Senior Care Rotherham 3 years ago.
I really love my role as Senior CAREGiver. It's a great feeling knowing that you have brightened up someone's day.
I enjoy walking, reading and socialising.
Alison Smedley - Personnel Support
Alison Smedley assists Al Walsh with recruitment, training support and CAREGiver experience. Before joining us she had a career in Customer Support at the local Job Centre. Her interests include ice hockey, motorcycling and caravaning to name but a few.