Westminster Dementia Action week 2019
Dementia Action Week took place on 21-27 May.

The campaign asks everyone to take actions big and small to improve the lives of people affected by dementia.

In the UK, one person develops dementia every three minutes. Yet too many people living with dementia face the condition alone and excluded from society. The vision behind the campaign is to create a dementia-friendly Westminster where people with dementia are included and supported to live the lives they want.

Here at Home Instead Westminster we are joining with this campaign, to raise awareness and to support people with dementia to connect with their communities, for a better sense of well-being.

As part of the week, we have been involved in various activities around Westminster.

Westminster statues have been draped in very special scarves

The unusual sight of iconic statues of Sherlock Holmes, Winston Churchill and Mozart draped in yellow scarves decorated with blue forget me not flowers, has greeted many workers and visitors to central London this week.



The "forget me not" scarves appeared on 11 statues in central and west London to mark Dementia Action Week. Scarves featuring forget-me-not flowers, the symbol of the Alzheimer's Society, have been stitched by community volunteers. The scarves are adorning iconic statues in the boroughs of Kensington & Chelsea and Westminster throughout Dementia Action Week.
Dementia Action Alliance General meeting

Home Instead Westminster has been an active member of our local DAA since 2014. So it has been an immense pleasure to see our members gathering at the Lord Mayor's Hall for an informative and fun afternoon. Particular thanks to our city of Westminster councillors and the people who live with Dementia who joined us.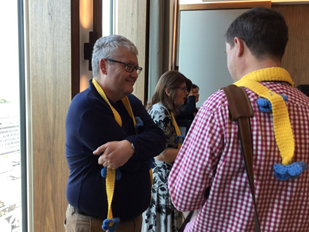 Raising awareness on the high street in the Victoria area.

We talked to our local shop about what "Dementia Friendly" means for them. People with Dementia still want to go to their local shop or favourite restaurant and it is of course totally possible with a bit of support and understanding.