Peter and Alexis Neighbour - Co-Owners
Hi, we are Peter and Alexis Neighbour, co-owners of Home Instead Watford. We live in Bushey together with Alexis' children, Isabella and Luca and our dog Rosie.
In our spare time, we both enjoy cycling and exploring the area as well as raising money for charity.
Peter is a Chartered Accountant by training, if not by nature, and has spent many years in the corporate world managing business in various industries. He reached a time of life and a point in his career when he felt it was time to take stock and see what he really wanted to do with the rest of his life. He strongly felt that now was the time to do something that he could really take pride in, something that would be of value to the community and that would make a real difference to people's lives. Having decided upon home care because of the experience of finding care for his Aunt Marge, he found in Home Instead Senior Care a team and an ethos that mirrored his own desire to put quality of service at the heart of the business. He now wants to share his passion with other local organisations and make a positive difference to people's lives in the area. He is also a director of the Hertfordshire Care Providers Association and Alzheimer's Society Dementia Champion to help raise awareness of Dementia in the wider community.
Alexis has run her own business for many years and has a background in recruitment, training and coaching. She watched with interest whilst Peter has developed the Home Instead business in Watford. When the time came for her grandma to have help at home, she knew that the CAREGivers were going to do a fantastic job of looking after her in her own home, allowing her to remain independent and comfortable. After seeing the commitment the CAREGivers gave to their work, Alexis decided to join Peter in the business after four years.
She is responsible for making sure that the office runs smoothly on a day to day basis. She ensures that the team is organised, communicates effectively with both CAREGivers and clients and that they offer the best possible service.
Together, we are committed to making Home Instead Watford the home care company of choice. We know that the quality of care varies considerably within the industry and we are determined to ensure that the care our company provides is the high-quality level we would accept for our own parents.
Jody Bryant - Head of Client Services
Hi, I'm Jody and I am Head of Client Services at the Home Instead Watford office. I joined Home Instead when the Watford office first opened in 2010 and was one of the first CAREGivers. I really enjoyed meeting new clients and providing high-quality care. I decided to expand my experience by working on a dementia unit in a local Care Home. I missed the team at Home Instead and when the opportunity became available to re-join the office team I jumped at the chance. I am now Head of Client Services and am responsible for supporting our CAREGivers conduct client reviews in order to adjust the needs of our clients should they change and ensure that our clients are all happy with the service they receive.
Emma Neighbour- Head of People
Hi, I'm Emma and I am really happy to have joined the lovely team at Home Instead Watford as Head of People.

I live in Watford with my American flatmate and a mouse called Dave. My biggest loves in life are family, friends, music and football. I strongly believe that a well-supported team who feel part of something special will deliver the very best of care. I am very excited to be here working with the team to make Home Instead Watford the best we can be.
Katia Silva Chalupa - Client Services Team Leader
Hello, my name is Katia and I have been working for Home Instead Senior Care Watford for three years.
My role as a Team Leader enables me to support our lovely CAREGivers and visit clients to assist with any issues.
I realise now that in our latter years in life, simple tasks become increasingly difficult, such as changing our socks. Through my experience with our clients here at Home Instead Watford, I have become a more compassionate and understanding person.
Karen Cummings - Care Co-ordinator
Hi, I'm Karen and I am the Care co-ordinator at Home Instead Watford. I joined Home Instead 2 years ago as a CAREGiver.
I worked my way up the company to care co-ordinator. No 2 days are the same. The role is challenging and very rewarding. I live in Watford with my husband and 3 children. We have 2 cats called Nicky and Ninja and a dog called Daisy, 2 guinea pigs called Dusty and Taffy (and 12 fish!) I think it's fair to say I love animals!
Chloe Foster - Assistant Care Co-ordinator
Hi, I'm Chloe. I have worked at Home Instead Watford for 2 years. I joined because my mum works for them and she told me I'd love it. She was right! I have been a CAREGiver and love working with people with all care needs. I have joined the office team as Assistant Care Co-ordinator and I am still visiting my regular clients because I don't want to give that side of my work up. I am pleased to join the office team because I really believe in what Home Instead do and I want to grow and develop my career in care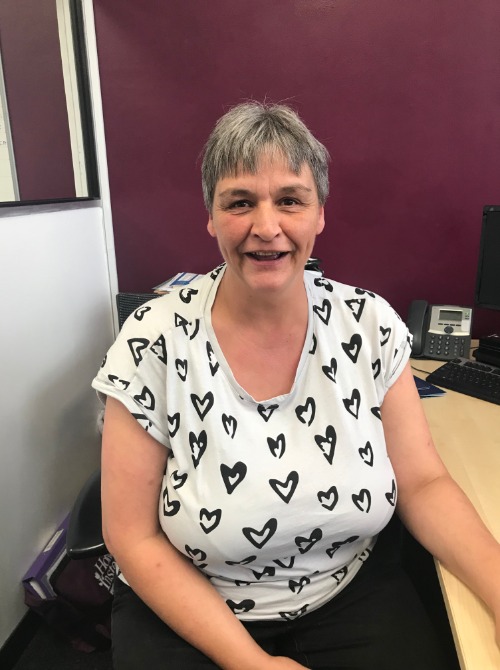 Jo Trevett - Learning and Development Co-ordinator
Hi I am Jo and I am new to Home Instead, having been a Caregiver for 6 weeks, but I have worked in the Care Sector for 20+ years with a range of age groups and disability. I am passionate about people receiving a service which is 'driven' by them and supports them to remain living in their own homes and communities. The most important part of my role is to build on the skills, interests, experiences that everyone can bring to the role and how this can then enhance the lives of those we support. Outside of work, I am married with two teenage children and two cats. I am a volunteer referee for Goalball UK which is a sport for the visually impaired and played by all age group.
Sacha Wharton- Finance Officer
Hi I'm Sacha and Im thrilled to have joined the great team at Home Instead Watford as the Finance Officer.
I live in Hemel Hempstead with my husband and 2 young children. In my spare time I enjoy city breaks abroad and go to regular gym classes. I also love living near to London and making the most of what it has to offer.
I have previously worked in the hotel and travel industry in Finance for 10 years dealing with clients and building relationships.
I am new to the care industry but am very much looking forward to this new experience.
Hazel Bulling - Field Supervisor
Hello, my name is Hazel. I have been a CAREGiver with Home Instead Senior Care Watford for nearly six years now. During my time with the company, I have gained years of experience in the care sector and am now a Field Supervisor. My role includes providing support to all CAREGivers including making sure that new CAREGivers are fully trained and happy in their roles. I am passionate about caring for our community and love my job.
Zoe Podemsky- Brand Strategy Consultant
Hello, my name is Zoe. I live in Bushey Heath with my husband and two young sons. I have a background in Brand Strategy working for a range of companies including British Airways, O2, De Beers and British Gas. I am new to the Care Industry and I am really enjoying being part of the Home Instead team.
In my spare time I love to cook, read, go to theme parks and watch box sets! I also enjoy spending time catching up with family and friends.
Matthew Holder - Digital Marketing Assistant
Hi, I'm Matt I'm a young lad as you can tell from my picture. My role here at Home Instead Watford is Digital Marketing Assistant. I deal with Google Ad words, Google Analytics, SEO and forms of marketing. I also manage the social media, the website and occasionally write articles for Home Instead Watford. I wanted to work here because whilst developing my skill set, I will also be giving back to the elderly community.
Melissa Pottinger - Office Administrator
Hi, I'm Melissa and I am the Office Administrator at the Home Instead Watford Office. I'm excited to have joined the team.


Having worked in care previously, I have a good understanding of the CAREGiver role. More recently I have been working as a PA to a Head Teacher in an Academy School and I hope my excellent skills and experience bring efficient administration and compliance within the office.


I live in Borehamwood with my partner and our 6-year-old son. We have 2 goldfish named Cobra and Jackson. I love cooking and catering for family and friend's events. In my spare time, I enjoy family days out, sporting activities, social catch up with friends and going away on holidays.
Our CAREGivers
We are very proud to have a dedicated team of compassionate and reliable CAREGivers, all of who go above and beyond the call of duty to take special care of all our clients. The teams' care and commitment has now been recognised nationally, with our recent win in the Herts Care Providers Association annual awards.
Are you a caring and friendly person? Would you like to help look after the elderly in our local community? If so CLICK HERE TO BECOME A CAREGIVER
CAREGiver Training and Qualifications
At Home Instead Watford we are committed to providing a full Induction Program for all new CAREGiver's. This consists of approximately 25 hours classroom training, covering The Common Induction Standards: The Role of the Social Care Worker, Fire Safety in the Home, Food Hygiene, Person Centered Care Practices, Medication Awareness and Safeguarding of Vulnerable Adults.
During their Induction week, all new CAREGiver's go out 'shadowing' with an experienced member of the team.
All CAREGivers are encouraged to update their knowledge & skills via In House training, distant learning and external courses. Currently CAREGiver's are undertaking our City & Guilds accredited Alzheimer & Other Dementias Training. This training has been invaluable, and all the CAREGiver's are finding these workshops extremely beneficial in providing person centered care with our clients who suffer with a dementia.