Franchise Owner- David Bradshaw
As the owner of Home Instead Rochdale, my focus is on the service first and the business second as I want to provide a quality service that I would be happy to use for myself and my family.
I have a daughter who used to live with me in Hebden Bridge but she has now flown the nest. When I am not dedicating my time to Home Instead, I enjoy hill walking- especially in the Lake District, spending time in my vegetable garden and looking after my chickens. I also love cooking, but it is really just an excuse to listen to football on the radio and to drink red wine!
Care Manager- Caroline Flood
Hello, my name is Caroline and I lead the team who provide the services to our clients across Rochdale, Heywood and Middleton. I moved to Home Instead after working for a number of years in dementia care in residential homes in the Haslingden area and as an NVQ Assessor in Health & Social Care across the North West of England. I really enjoy visiting our clients and ensuring they are receiving the best possible care and support in order to meet their needs and to enable them to remain in their own home.
I love my job working for Home Instead who are by far the best quality domiciliary care provider in the Rochdale area.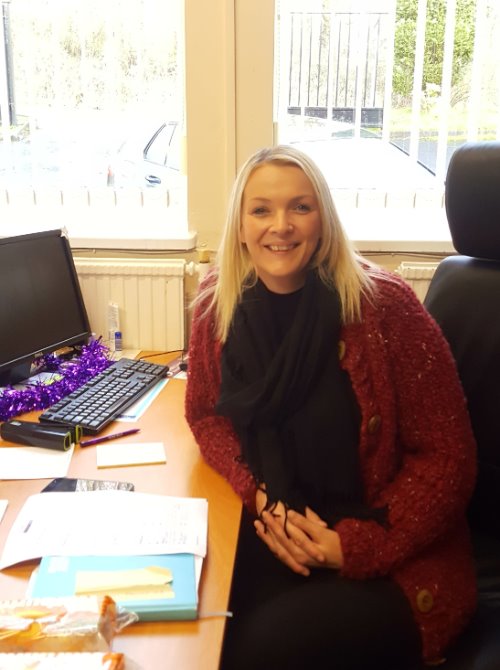 Deputy Care Manager- Rachel Kershaw
I'm Rachel and I'm the Deputy Care Manager here at Home Instead. My main role is to assess the caregivers for the Care Certificate. I also support Caroline in the day-to-day running of the business, including meeting the clients and assessing their care needs and ensuring quality is maintained by carrying out quality assurance visits with our clients. There are also plenty of fun aspects to my job, including, planning trips out for the clients and caregivers and organising parties around special events.
I'm married to my husband David and have three children – Ashley, Jack & Olivia. I love spending time in my garden and travelling. In particular, one of my favourite trips was riding elephants through the jungle in Northern Thailand. I'm also passionate about food and enjoy spending time in my kitchen cooking.
Scheduler- Kimberley Symcox
I'm Kim and I'm the Scheduler in our team. Day to day I am responsible for coordinating the carers and the clients and ensuring everyone knows where they need to be and when. I thoroughly enjoy the challenges that my role presents me with and even more so as it is for a company that I respect and am proud to work for.
I live in Bacup with my husband Jon and two young boys Jack and Charlie; they are both in infant school so outside of work I am busy looking after them and our cat Rodders! I love food, especially cheese, and love going camping in our tent as often as possible. My favourite holiday is our annual drive to the south of France to see my French family; it takes two days but the boys love the journey!
Staff Coordinator- Jackie Howarth
Hi I'm Jackie and I am the Staff Coordinator here at Rochdale Home Instead Senior Care. My role is recruitment, retention and training.
I enjoy meeting people and following their progress from training to becoming a CAREGiver and see them grow in confidence and skills.
I live in Rochdale, close to Gordon Riggs Garden Centre, and enjoy taking my Grandchildren over there to look at the pet corner.
My grandchildren keep me very busy and active, especially when they have a sleep over at my house. This year, I went to Florida with my family and enjoyed going back to my second childhood- going to see Mickey & Minnie and all the other Disney characters- as well as some I had not even heard of!
Recruiter- Debbie Marshall
Hi, I'm Debbie and I'm the Recruiter. With this role, I am in charge of the networking into the community. This means that I go into different places such as: children's centres, health clubs and various societies in order to reach out to a multitude of people and raise awareness of Home Instead Rochdale among the public. Overall, this allows me to recruit more and more people into this field of work- even those who would have not thought about becoming a Carer before!
I am the newest member to the Rochdale office team, however, I previously worked as a Carer before I was promoted to where I am now. I enjoy doing my job as it gives me the opportunity to meet new people and be a part of this amazing team.
I live in Rochdale with my partner. I have two daughters, who I am close with, but have moved out now. I also have a dog which I treat like another child! I love dogs and hope to get another sometime soon.
Our CAREGivers
Our team of dedicated, compassionate and reliable CAREGivers consistently go above and beyond the call of duty to take care of our clients.
If you think you might be suited to this role, we are always on the look out for new people to join our team, so please do not hesitate to get in touch.