Owner/Managing Director Alexandra Sacker
Alexandra has previously worked in a number of financial positions as well as working within the health and social care industry for the past 6 years, gaining an in-depth experience of the care system. She was a Home Manager for young adolescents across North London and part of Enfield.
Alex not only has a drive for exceptional organisation, she is 100% dedicated to providing quality care and a first-class service. Her passion for caring for the elderly stems from her younger years where she witnessed her grandmothers' slow deterioration with Alzheimer's. It was this experience that caused her to make a promise to herself to try and better the care that is available to our older generation.
Alex has 2 teenage daughters and lives in North London where she loves to cook and entertain friends. Travelling is a life-long passion as is reading a good book. She keeps fit with kick-boxing sessions and skis in the winter months in Switzerland.
Owner/Care Manager Alistair Jones-Owen
Alistair has worked in the care industry for 8 years starting as a Senior Carer in a nursing home and rising to the position of Training Co-Ordinator. He left the nursing home, moving to adolescent care where he was a Home Manager progressing to Senior Manager where he oversaw the expansion of the company from 2 homes to 8 with 50 carers and 5 Managers.
While working in adolescent care Alistair juggled caring for his father whose, health was deteriorating and showing signs of early onset dementia. Alistair felt there was a distinct lack of care options for older people before coming across Home Instead. He was attracted to the Home Instead ethos of changing the way senior care is delivered in the UK and prompted Alistair to re-evaluate his direction in care.
Alistair was born and raised in Enfield so knows the borough well and is eager to deliver an excellent service to his local community and the residents within Enfield. He loves to spend time with his family, likes to cook and is a dab hand at a bit of home DIY
Kelly Thurgood - Care Co-Ordinator
Kelly Thurgood – Care Co-Ordinator
Kelly has joined Home Instead Enfield as an experienced CAREGiver working with a number of our clients before moving into our office in her new role as Care Co-ordinator. Home Instead Enfield is taking advantage of Kelly's knowledge of working in domiciliary care for some years before she landed on our doorstep. Kelly is now in charge of running all aspects of the Schedule making sure our CAREGivers are where they are supposed to be and that they are happy with what they have to do. She also supports our new CAREGivers with any questions or concerns they may have and provides advise and guidance to our new members of staff. Kelly still goes out and delivers care loving the interaction with clients and being able to make a difference to someone's live.
Kelly loves a bit of glamping (posh camping), swimming and socialising.
Lisa-Jayne Turner - Administrator
Lisa is already part of the 'family' in her role as CAREGiver. She has now joined the office team on a part-time basis to make sure our files are kept up to date and assisting with administrative tasks to keep us compliant - Lisa has lots of experience in Customer Services and is used to working in an office environment. She will make an excellent addition to our growing team.
Lisa has a young daughter to keep her busy in her spare time and helps out with the Rainbows After School Club.
Trish McKenna - Senior Care Giver/Team Leader
Trish has been with Home Instead Enfield for over a year working part-time on her days off from her work at a Residential Care Home. She has decided to dedicate all her time to our lovely clients and work for us full-time. Trish is an experienced Carer, her calm and patient character has won her much praise and we are absolutely delighted to have Trish on our core team. Trish is dedicted to deliver first class care and she will be providing invaluable support to the team in the field.
In her spare time Trish likes to listen to music, she also likes swimming, cooking and spending time with her family and friends.
Home Instead Enfield Care Givers
Here are some of our Care Givers - we are so proud of them! A lovely bunch of people making a true difference to our clients' lives.
CAREGivers
Our CAREGivers are compassionate and share our commitment to deliver the best Quality care to every single one of our clients! On a daily basis we work with our team to ensure our standards are the highest, our people are the most compassionate and our service the best it can be.
At the top of all of our list is to enable our clients to live an independent and happy life at home. Our CAREGivers are trained by ourselves, carry a fully enhanced DBS check and participate in regular training courses to further their knowledge and career. We match CareGiver and Client and always introduce them before care starts. Home Instead Enfield cares about their Carers and we are always on the lookout for new talent.
If you're interested in becoming a CAREGiver please call Alex or Alistair on 0203 6024068, alternatively send an email together with your CV to info.enfield@homeinstead.co.uk.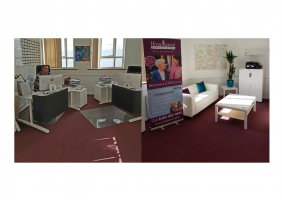 Our Office
Please feel free to pop in and see us to either discuss Care Requirements or enquire about CareGiver Positions.