Dereham Office Client Experience/Scheduler - Beth Hatch
Hello, my name is Beth Hatch and I am the Client Experience / Scheduler for Dereham and Swaffham.
I joined Home Instead back in December 2017 and I am an enthusiastic member of the office team. I look forward to meeting our Caregivers and also any potential clients who are looking for a home care provider that will not only deliver an excellent standard of care but that will exceed expectations. I am in the fortunate position of having previously worked for another Home Instead franchise and so seeing first hand what an amazing job everyone is doing all over the country, I feel I can confidently inspire anyone to take on our services. The values and standards that I set for myself both professionally and personally are very important to me. So when you find a Company that shares the same values and standards, your job is all the more rewarding.
My career to date has been varied; working within the insurance industry, serving in the Royal Navy, working as a Mental Health Support Worker and more recently working as a Transitions Support Worker where I was helping young people aged 16-18 that have been living in care. Working with older people however, is what I enjoy the most. I just love meeting new people and hearing their life stories.
In my spare time I enjoy running, reading, socialising with family and friends and also walking my two dogs.
Administrator- Phoebe Kelman
Phoebe started with us in July 2017 as an Administrator for Home Instead Senior Care. She is now a crucial member of the team and the friendly voice at the end of the phone when you call into our office. Phoebes role includes, ensuring all staff files are up to date, filing and ordering/managing all stationary, greeting CAREGivers and clients, providing admin support for office team and keeping all of our caffeine levels up! She makes a great cup of tea!
Phoebe left full time education in June 2017 and will be working alongside completing her apprenticeship in Administration.
In her spare time, Phoebe enjoys running and keeping fit, particularly in taking part in the park run on a Saturday. She also enjoys spending time with family and friends.
CAREGivers - Our Team
We are very proud to have a priceless team of dedicated, compassionate and reliable CAREGivers, many of whom go above and beyond the call of duty to take care of our clients. These are people who really care.
If you think you could fill this role, we are always looking for individuals with these caring qualities to join our team in King's Lynn, Downham Market, Swaffham and Hunstanton areas.
Call our office on 01553 764664 or email tom.mcewan@homeinstead.co.uk and we can discuss what you can do for us and, as a valued employee, the career opportunities we can offer you in return.
North Norfolk Care Manager - Rebecca Trezise
Hello, I am Rebecca Trezise the Care Manager for Home Instead in North Norfolk. We cover Holt, Fakenham, Burnham Market and the surrounding areas.
Experience
I feel passionately that people should be able to remain living in their own homes for as long as they want to despite the difficulties that can occur when a person ages or a debilitating condition is present.
I grew up with parents who suffered with debilitating conditions but who refused to allow these to prevent them from living their lives in a fulfilling way. My mother's illness was progressive, so I learned as I went along the sort of everyday struggles people face and the sort of help, support & care that can make a difference to a person's daily quality of life. It was obvious to me that the quality of that care and support was very important to their feelings of wellbeing. The right approach resulted in their acceptance and appreciation of the help they needed.
I also gained valuable insight about the issues that families and carers face on a day to day basis. I know that it is vital to have access to knowledgeable, listening professionals who can guide individuals, families and carers through the periods of change which can seem daunting at the time.
My parents were concerned about the impact this experience had on me and my life but ultimately the insight it gave me placed me on the path of working in the Care Industry.
I have worked in the Care Industry for approximately 16 years. I trained initially as a Live -in Care Manager. During this time, I was responsible for the provision of live in care to 65 clients spread across the UK. I did this for 6 years. I left to work on a self-employed basis with a number of small businesses, including a care provider, in an advisory capacity. This allowed me to put time aside to support and provide care to my mother & latterly my father during their final years.
Following a break from the Care Industry , and after owning a restaurant, I returned to my favoured profession of working in the Care Industry. I joined Home Instead West Norfolk as a Quality Assurance & Business Development Manager. A house move back to my home town meant that I had to leave and work closer to my new home. My next role was as a Registered Care Manager for a small independent care provider, supporting the growth of the service from initial start up into a very busy service. After that I joined a large national care provider and established a new branch for them in Norwich over a 3 year period. The branch was very successful and under my leadership achieved a good reputation for providing high quality care in for their clients choosing to remain living in their own homes culminating in a CQC report showing Good in all of the services rated.
I am now very excited to return to Home Instead West Norfolk to take up my role as Branch / Care Manager. It is lovely to work within a family business with such a strong desire to provide a high quality standard of support and care to people whose choice it is to remain living in their own homes. I know we all agree that we couldn't do what we do to support our clients without our amazing caregivers and we really appreciate their dedication and loyalty to the clients.
Trainer - Jenny Hurkett
Hi, my name is Jenny Hurkett and I started work with Home Instead Senior Care West Norfolk at the beginning of January 2018 as Head of Training. I'm really excited about this and I look forward to meeting both new and existing Caregivers over the coming months during training.
I am Mum to Laura McEwan (Registered Manager with CQC) and the mother-in-law of Tom McEwan (Operations Manager)! I also have a son called Chris who is a Chartered Accountant and a Husband called Alan.
I have been working in Primary Education for the past 23 years as a HLTA, doing frequent class teaching as well as providing group and individual support. I will use my teaching experience in the training room and can empathise from both the teacher and learner perspective. I will miss the children very much, but I am already enjoying my new challenge wholeheartedly.
I have some experience of being a Caregiver as I worked for an NHS provider in the Peterborough area about 5 years ago. Therefore, I appreciate our amazing Caregivers as this opened my eyes to their vital role as I cared for many people with a variety of needs. Whilst there, I found it impossible to spend the time with each client that they deserved. I feel that Home Instead Senior Care provide a much fuller service that covers client's emotional and mental wellbeing as well as practical needs, treating them with respect and love.
I also have personal experience as my dear Dad has lived with Dementia for many years now and I have seen the impact this has had on him and my Mum who is his main carer. It is important to me that as many people as possible have access to high quality Dementia care as well as support, advice and information for those who care for anybody involved with or touched by Dementia in any way.
In the short time I've been with Home Instead Senior Care West Norfolk, I already feel happy and settled as part of the office team and am eager to meet Caregivers in the training room where we can share our experiences and learn from each other.
Director - Jeannette McEwan
Jeannette McEwan first opened the office in September 2008 alongside one other member of staff, with the aim of a steady growth in order to maintain a high level of continuing care. Her aim is to make a difference to the quality of care to all the individuals who entrust their care with Home Instead. She is now proud to employ in excess of over 60 staff on either a part-time or full-time basis. Home Instead can make a real difference to peoples' lives in their own homes.
Operations Manager Tom McEwan
Tom has a passion for providing quality care. "Ever since our family experienced the effect that poor care can have on a family member, I have been driven to build a team of CAREGivers that truly want to provide the best care possible. I think people can see that we are unique in our approach to care. Our CAREGivers tell us that we're unlike other care companies that they have worked for previously. With the minimum of an hour long call, and continuity, our CAREGivers are confident that they can build relationships, trust and a great bond with our clients."
Tom manages the office team and meets potential clients who are interested in hearing about how Home Instead Senior Care can help them and their families.
In his free moments Tom enjoys spending time socialising with friends and playing golf.
West Norfolk Care Manager - Laura McEwan
Laura Atkinson rejoined the Home Instead Senior Care West Norfolk office in July 2014. Laura originally joined the team in June 2013, she had a break from the company to pursue a career in politics, however after she decided that she missed working in Senior Care, she returned to the company and the office team were more than happy to welcome her back.
Laura's first encounter with Home Instead Senior Care came when she was studying Social Policy and Sociology at Sheffield University, She noticed an advert for a caring position and felt that she could do it. She never looked back and after obtaining a 2:1 in her degree she decided that she would like to pursue a career in care.
Her role within the office is to support new and existing CAREGivers. Laura enjoys her role "I love to see new CAREGivers joining the team, it's great when we get positive feedback once they start".
Laura is married to Tom McEwan, the couple wed in October 2017 and have recently had a baby girl Millie, Laura works part time hours (Mon-Wed).
Care Quality Support - Julie Collins
Julie Collins joined Home Instead Senior Care as a CAREGiver in July 2013, she had previously working in a residential home as a chef and enjoyed the daily interactions with the elderly people within the home. After more than a year as a CAREGiver, due to expansion within the business a role as a field supervisor was created, Julie had the experience of providing support to clients and also a professional attitude which made her the ideal candidate.
In her role Julie spends most of her time out in the community visiting existing clietns of Home Instead Senior Care, she will also support new and existing CAREGivers in their day to day challenges of being a CAREGiver.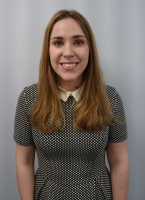 Scheduler - Emily Kitchen
Emily started with us in March 2017 as a Scheduler for Home Instead. She is now a key member of the office team, organising and fine tuning the weekly schedules for all of our clients and CareGivers. This role has allowed Emily to get to know our clients' requirements and ensure their needs are always met by the right CareGiver.
In previous roles, Emily has worked most recently for the NHS and the private health care sector. As a result, her experience of providing services in the community offer an understanding approach to care.
"I've always had a keen interest in providing an excellent level of care which is what drew me to Home Instead and I am very excited to be part of such a dedicated team."
In her free time, Emily enjoys travelling , watching films and spending time with family.
Senior Caregiver Pauline Porter
Pauline has been a crucial part of our team since June 2013 firstly working as a CAREGiver covering the Swaffham Area. Pauline was a fantastic CAREGiver always going above and beyond for her clients and the office. This is highlighted through her achievements during this time winning in consecutive years the Silver and Gold Above and Beyond award and the CAREGiver of the month award twice.
Pauline has a very friendly, calm but confident nature which enabled her to be adaptable and allowed her quickly build a trusting relationship with her clients.
Due to this and her other people skills, Pauline was promoted to the position of Senior Caregiver in February 2018. This role is focused around developing new and existing Caregivers using Pauline's considerable knowledge of care