Our CAREGivers
Our brilliant team of CAREGivers come from a wide range of backgrounds and with their varied life experiences, each bring their own character to the care of our Clients. Our CAREGivers are what makes Home Instead an exceptional home care provider, without them we would not be given the awards and recognition we have.
Each CAREGiver is carefully selected for their empathy and compassion and matched individually to the personality and interests of the Clients they assist. By drawing on the CAREGivers compassion and genuine desire to support members of their community, we can assure our clients that they have chosen the right company to provide excellent care.
Pictured are some of the 'Class of April 2016 and May 2016' during their training. You couldn't wish to find kinder people to look after your family or a happier or more friendly group with which to work!
Esther Folland - Field Support
I first joined Home Instead as a CAREGiver back in July 2016. I love making a difference to our clients' lives through the care we provide, and I enjoy listening to the stories our clients share.
In January 2018 I began a new role as Field Support to help support other CAREGivers in their role.
My home town is Carmarthen in Wales and I studied Early Childhood Studies at Swansea University, but my husband and I now live in Torquay with our lovely dog Penny. In our spare time we enjoy going for walks to National Trust Parks and socialising with friends.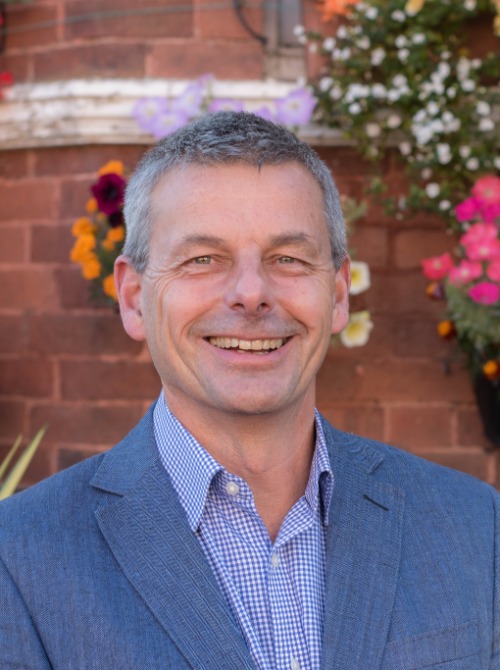 Peter Hughes - Owner and Care Manager
Welcome to Home Instead Senior Care South Devon
I have had a connection with the South West for most of my adult life and for the past eight years we have lived in Galmpton. My family has a strong medical bias. My wife Mercedes is a Pharmacist, my son is in medical school and my daughter also intends to study medicine. Over the last 25+ years I have provided environmental consultancy services to the exacting standards of the oil, mining, energy and shipping industries. This experience and my family's medical focus, provides me with an excellent background for delivering the leadership and high quality of service at Home Instead.
I became interested in providing care after a poor experience with care for my father. The stress involved in finding the right care company and meeting his needs took a toll on the whole family. I wanted choice and flexibility, a strong ethic of compassion and responsibility, and confidence in the quality of service. I found it in Home Instead Senior Care and decided to open a business in my own community. From our very first meetings with Home Instead it became apparent that the whole ethos of the company is geared towards quality and 'doing the right thing'. I am proud to be part of Home Instead Senior Care.
When I do get a few moments to myself you might see me running around the lanes, trying to help the dog shed those few extra pounds (ahem!) but on the fine days I hope to be on the water in my small boat – fishing, swimming or sometimes 'just sitting'. "Believe me, my young friend, there is nothing - absolute nothing - half so much worth doing as simply messing about in boats." (Kenneth Grahame – The Wind in the Willows)
Mercedes Hughes - Owner
I came to the UK from Cape Town, where I worked in the pharmaceutical industry in quality control, clinical trials, medical writing and lecturing. In the UK I continued my studies specialising in mental health at the John Radcliffe Hospital in Oxford. When we moved to Devon eight years ago with our two children and dog in tow, I managed the pharmacy at Compass House Medical Centre in Brixham for close to five years. I took an opportunity to continue my post-graduate studies at the University of Bath and my work at Torbay Hospital as a Clinical Pharmacist on the Care of the Elderly ward, provided real life evidence on which to base my studies. I am now back in the community and I am a Pharmacist Manager in a well-known local pharmacy. My focus in the business is in training and staff development and I bring all of my healthcare knowledge to maintaining our high standards of care.

As a mother of two, of course my children are the light of my life – but I do like a little bit of interior design, classical music and ballet for enjoyment.
Claire Walton - Deputy Care Manager
I moved to South Devon just 18 months ago and recently got married. Whilst I am new to the area, I am used to and love working in the local community. It has always been extremely important to me to work in a business that sows into the local community, has integrity, honours and respects their staff and has genuine compassion for those they care for. Having worked in both the private and public sector for many years, I felt I wanted a role that enabled me to be out in the community yet also incorporate my business and life skills from the workplace and raising 3 children.
I am passionate about family and have always endeavored to encourage others to be more than they thought possible. My favourite saying is "someone else's ceiling can be our floor". I also love to paint and write. I can often be found at a local beauty spot, painting or writing as my husband fishes for mackerel or bass. I enjoy cooking for family and friends at home, as I love to show good hospitality.
I am pleased to have joined the Home Instead Senior Care team here in South Devon. I am looking forward to working within this lovely community to assist them in what I believe is already an excellent service.
Gill Elliott - Recruitment Lead
I have been employed within the NHS and Private Healthcare for a most of my working life. I joined the team at Home Instead Senior Care in March 2016 and am proud to be part of an organisation that makes a direct difference to people's lives.
In my spare time I enjoy meeting up with friends and family and when time permits I love to travel, although my bucket list seems to be growing despite my trips away!
Linda Wileman - Operational Lead
I was born and bred in Torquay, and have never felt the need to move away from this lovely area.
I worked for 28 years in a number of NHS hospitals as a Clinical Cardiac Physiologist. I decided to have a change of focus in life and 'semi-retire', which is when I discovered Home Instead.
Initially I worked as a CAREGiver for two years. I have now moved into the office as the Operational Lead, and have come out of retirement. The best part of the job is the difference you make to people lives by helping them to be able to stay in their own homes.
I am married with 3 children, and in any spare time that I have I enjoy gardening and perfecting the art of growing my own produce in tubs. I am also a big football fan, and a staunch supporter of our local team Torquay United. I can often be found on the Pop Side at Plainmoor when the 'Gulls' are playing at home.
Sky Randall - Operational Support and Marketing
When I heard about Home Instead I knew it was a company I'd like to be a part of. Their approach to care is pioneering and their passion for delivering a client-focused service matches mine.
Before joining Home Instead, I worked at Citizens Advice which involved giving advice to the general public on a wide range of matters. I quickly appreciated how rewarding and interesting the work was, and I thrived on the busy and sometimes stressful nature of the work. I worked there for over 2 years, eventually becoming a supervisor of a team of 10 volunteers.
I have also previously worked at Age UK. Here I undertook the Dementia Friend training, and assisted with the 'Call in Time' service – a telephone companionship service for the elderly, preventing them from feeling isolated and lonely.
On a personal level, I am interested in Psychology and Criminology and am currently undertaking a BA Honours degree in this through the Open University. This fills up most of my spare time, but when I do manage to find some free time I enjoy spending time with friends and family, watching crime dramas or reading. I've lived in Devon for most of my life, but have close family who live in Australia and I enjoy visiting them when I can.
Michael Binmore-May - CAREGiver Experience Lead
I was born in Cornwall and moved to South Devon due to work responsibilities around 11 years ago and immediately fell in love with area. It was here I met my wife Charlotte and after a few years together we had our two beautiful children Archie and Scarlett. We currently live in the South Hams as we all love being near Dartmoor. We spend hours roaming around finding picnic spots for the children to play and walking our dog Harry.
I have worked in the care environment for over 18 years now and through that period of time I have both seen and learnt a lot of things. I cherish the memories about those I've cared for and the lessons in life they have taught me. I have learned the history of wars from hero veterans, tales of blitz survivors, and wives who worked in ammunitions factories and I've adored the times spent listening to those, telling me such adventures. It has always been a privilege to be amongst these people.
And now to what I feel is the grand finale..!
Home Instead Senior Care is something unique and like a breath of fresh air. Its personal, empowering, supportive and sincere. I have spent 18 years working myself towards this adventure. My role is to provide induction based training for all the new CAREGivers and to develop their career path. I am also responsible for the ongoing training, support and professional development of the Field Support and CAREGiver team whist giving guidance to delivering person-centred care and support through productive supervision.
Sarah Giles - Communications Lead
I was born and bred in Paignton and after travelling around Australia, New Zealand and Thailand for 18 months and venturing to Brixham for a few years, Paignton is definitely home!
Having worked in Human Resources in a variety of industries for around 20 years, I have always been very people focused which has enabled me to gain excellent interpersonal skills with a wide range of people. Subsequently, it has been a huge achievement to return to full-time education and successfully complete my BA Honours degree last year with a first.
My journey with Home Instead Senior Care started back in June 2015 when I applied to become a CAREGiver and after a few months found myself helping out in the office alongside my CAREGiver role and studying for my degree. I finished working in the office in October 2016 when I was in the final year of my degree, but continued being a CAREGiver. I have loved my role as a CAREGiver and have met some lovely people along the way. I've had four regular clients, one I've had from the very beginning. It has been great to see the business from both sides. I am really enjoying being back in the office and am looking forward to using my experience as a CAREGiver and Office Support to enhance communications for us all.
On a more personal note, you will often see me with Polly, my dog, and she often pops into the office or comes with me on some of my visits. I enjoy being outdoors (when the weather is good!) walking Polly, geocaching and munzeeing. A recent and fulfilling achievement was climbing Snowdon, even Polly made it to the top! I also enjoy spending time with friends and family and taking part in charity events.