Franchise Owners - Bryn & Jill Evans
Bryn & Jill Evans - were one of the first Home Instead Senior Care Offices to open in the UK. 'We first opened our offices in July 2006. At the time we had only 2 employees. Today we employ over 170 full and part-time employees. Our aim when we began was to try and make a difference to the quality of care provided to all the individuals we care for. We aim to only employ specially chosen individuals to ensure the best quality of care is delivered. We truly feel that dignity and independence can be one of the most important things to any person who wishes to remain in their own home. Since we started the business we have provided quality care for over 1000 individuals and when we receive letters of thanks there really is no better feeling'. Bryn and Jill are happily married and live in Barnsley.
General Manager - Sarah Oldham
Sarah Oldham - is General Manager for Home Instead Senior Care Barnsley and Sheffield. Sarah is also the registered Manager responsible to CQC.
As General Manager Sarah oversees and manages all 3 franchises. Sarah is integral in the day to day running and has overall responsibility for driving the business forward by ensuring we continue to provide high quality care in the community and all our targets are met
Sarah joined Home Instead Senior Care in April 2007, and uses patience, honesty & her bubbly personality in all the right ways to make both clients and staff feel at ease. Clients can feel nervous when asking for help, Sarah ensures clients can be confident that Home Instead can fulfil their needs
Sarah also oversees the selection, training and matching of our CAREGivers so each client has the support they desire and that they are aware of our aim which is to help them remain as independent as possible in their own home. Sarah has over 24 years of care experience; there is not a question she can't answer. Her knowledge of the care industry allows her to guide our dedicated team to provide the optimum level of care.
Sarah has recently celebrated a decade at HISC and lives in Sheffield.
Accounts Manager - Bernice Eggleton
Bernice Eggleton - works directly with Bryn the franchise owner and together they manage the day to day book keeping, accounts and wages. Bernice has a background in accountancy and book keeping and ensures that both clients and CAREGivers queries are answered quickly and efficiently; she is an integral part of the team.
Bernice is originally from South Wales and now lives in Barnsley with her two young children.
Recruitment and Engagement Manager - Alison Taylor
I joined Home Instead in 2015 having already worked with Jill & Bryn on various projects in my previous role. Having worked 20 years in the legal sector I felt a change in direction and a new challenge was just what I needed. After meeting the rest of the amazing team and learning more about the great work Home Instead do in improving the lives of the elderly, vulnerable and socially isolated in our area, I was sold!
Finding the right CAREGivers to help our clients who have both the heart and patience to care is something I am passionate about. When recruiting CAREGivers I always think of my own Grandmother and the type of person I would have wanted to help her in her later years. It is also very important that as a team we support our CAREGivers in the fantastic work they do, not only with regular supervision meetings and training but by ensuring that our door is always open for a cup of tea with a big smile and a listening ear.
HR Coordinator - Debbie Cooper 
Debbie Cooper is just the right person to serve as our 'Director of First Impressions' and our HR Co-ordinator.
Debbie says, "The way you are first greeted demonstrates our interest and concern for you. It's a busy office, but your call is our top priority. I really love working at Home Instead and meeting people who want to make a difference to the lives of vulnerable adults. I ensure all six references are requested and checked on receipt and once trained, I follow up with quarterly supervisions. It's lovely to see new recruits complete their training before going on to meet their first client as a new and much valued CAREGiver. I'm always there to help and support people when needed".
Debbie lives in Sheffield with her husband Paul and their rescued Jack Russell Terrier Lucy.
Staff Coordinator - Sarah Brunt
Sarah is the staff coordinator for the south sheffield office. Sarah began her Home Instead journey in April 2012 as a CAREGiver for the North Sheffield office. In the summer of 2013 she helped out in HR before becoming Field support for North Sheffield. In February 2016 she joined the South Sheffield Team as staff coordinator.
"I originally came to work for Home Instead to gain some experience in the care industry, fully expecting to move on after a year or so, but here I am 5 years later. Nothing could have prepared me for the amazing journey I have had so far with Home Instead. It is a wonderful feeling coming to work knowing we are improving the quality of the lives of our clients, and I can't wait to see where the rest of this journey takes me"
Sarah lives in sheffield with her family and cat, Popsy and golden labrador, Meg. She is a big Sheffield Steelers fan and enjoys spending time with her family and friends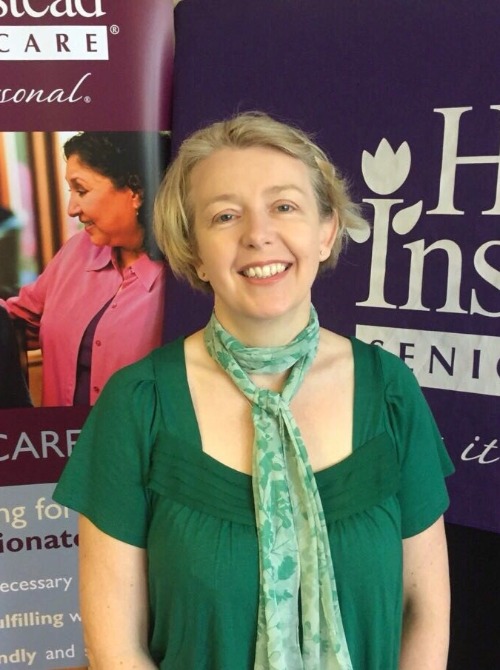 Field Support - Reita Green
Reita joined HISC in August 2015 and became Field Support Sheffield South in March 2017. Previous to this Reita worked in school and nursery education whilst her children were young. As her children grew into teenagers and as a single mum she decided to supplement her income with care work after seeing an advert in the local church newsletter.
"I mainly enjoy solving problems for our clients, whether unblocking a drain, making phone calls or reassuring them about medication. They are all so lovely and grateful and no two days are the same. Recently my most unusual task was to bathe a tortoise"
In my spare time I enjoy spending time with my extended family, we enjoy getting together for trips and picnics. We recently had afternoon tea on a canal boat cruise in Cheshire. At home I socialise with friends, embarrass my teenage children and enjoy reading and gardening. Weekends can be busy as my significant other lives on the Wirral and is a tri-athlete. Occasionally I join him outdoor swimming for part of his training.
Field Support - Elaine Hartley
Elaine is one of the Field Support team in Sheffield South. She started working as a CAREGiver for Home Instead in July 2014. Elaine was returning to work as her family were growing up and after researching she liked the idea of minimum call times of 2 hours, enabling a carer to really build a strong trusting relationship with their clients and that this was the place for her to apply her care experience to a different age group.
During 2016 Elaine was promoted to a Senior CAREGiver and November 2016 was offered the Field Support post.
"I am so proud to be working for such a highly reputable care company. My own personal journey with the company has allowed me to rebuild my confidence and I am proud to go home each day knowing I have made a difference and helped to improve the quality of so many people's lives."
In the little spare time Elaine has, between bringing up her 3 boys, she enjoys reading, crafting and cake decorating.
Trainer - Faye Histon
Faye has worked for the company for over 10 years. She started in 2007 as a CAREGiver and has worked in various roles within the HISC but is now full time trainer.
'I really enjoy my role as trainer, i love meeting new people and all existing CAREGivers. I believe my role is key to ensuring that our new recruit's transition into the CAREGiver role is as smooth as possible, as many of our new CAREGivers have no previous care experience. I totally believe in the ethos of Home Instead Senior Care and love working here.''