Mark Greatbatch - Managing Director 
Hi I'm Mark Greatbatch the Owner of Home Instead Senior Care here in East Hertfordshire and Uttlesford. I have been delivering Care services in this area since 1996 when I left the Royal Navy. During that time I have worked very closely with all manner of agencies at both local and national levels in pursuit of excellence in the delivery of service. Home Instead has allowed me to refocus the type and style of service being delivered to a much more personal and relationship driven service which very firmly places our clients at the centre of everything we do. I have worked at every level within a care organisation which has allowed me to experience first hand what it feels like to be on the front line. The Home Care sector is a very special place and one where things need to be done the right way without fail. I feel very privileged to be a part of it and I hope that we really do touch the lives of the people we provide our services for.
David Bassett - Director and General Manager
Hi I am David Bassett, Director for Home Instead Senior Care here in the East Hertfordshire and Uttlesford office. My role includes the management of the day to day running of operations, overseeing the CAREGiver interview and selection process, payroll, HR, and delivering some of our in-house training.
I have worked in the social care sector since 1996, in nursing homes, local day centres and at our local regional college as an QCF Assessor.
In my previous roles i worked closely with people who suffered with mental health problems such as, Alzheimer's, learning difficulties and the elderly. I am very passionate about my role and will always ensure that our CAREGivers deliver exemplary care to all our clients. I have gained my QCF level 2, 3 and 5 in Social Care Management. I am a trained trainer in moving and handling and many other areas and gained Bronze status as an Alzheimer's Society Approved Trainer in 2011. In July 2012 I was short listed as a finalist for the 'Internal Trainer of the Year' award as part of the Hertfordshire Care Awards.
I am committed to ensuring that we build a fantastic team to provide the highest quality of care for both our current and future clients and their families, giving peace of mind for all concerned. We can guide you through the difficult decisions that need to be made when looking for care and help you decide if care at home is the route you should take.
Laura Speller - Client Experience Manager
Hello my name is Laura. I'm the Client Experience Manager
I've worked in the care sector for over fifteen years after studying City & Guilds in community care. Over the years I've worked in various care setting, in residential care, day care and domiciliary care in the community.
I have experience working and supporting varied client groups, and have watched many changes to the care sector over the years. To me it is paramount that each client is treated with dignity and respect. Receiving "A Person Centered" service, ensuring their needs and wishes are met, enabling them to remain as independent as possible. I will make a difference to people's life and I am committed to the team at Home Instead Senior Care. I will continue to ensure that I deliver the utmost high level of support and care to our clients.
Rebecca Middleton - Care Co-ordinator Manager
Hi I'm Rebecca
I joined the team as a CAREGiver with Home Instead East Herts and Uttlesford in September 2010.
As Care Co-ordinator i am responsible for producing and maintaining the schedules for our clients and CAREGivers. In doing this my main focus is on the compatibility and continuity when bringing Clients and CAREGivers together.
My role is key in ensuring both clients and CAREGivers are happy with our service.
Tony Perry- CAREGiver Experience Manager 
Hi I am Tony Perry.
My role as CAREGiver Experience Manager involves all aspects of Recruiting and Retention including the training. I am there to support our CAREGivers whenever they need it. Along with Frances , I monitor the performance of our CAREGivers to ensure they are giving our clients the standard of care they deserve. I especially enjoy training the new CAREGivers to give them the skills and knowledge they need to go and make a difference to our client lives.
I have served over 30 years in the Royal Signals Army Reserve (Territorial Army) including a six month Operational Tour in Iraq. One of my main responsibilities in the Army Reserve was training and I feel that I can now use this skill to prepare our CAREGivers to deliver the high standard of care that is expected of them.
Jo Bastick - Community Service Representative Manager
Hi, I'm Jo Bastick and have worked for Home Instead Senior Care since 2011. I very much enjoy my role as Community Service Representative as I am able to get out into the community to promote a company that I truly believe in. Helping people make informed choices armed with the information they need is vital and having the opportunity to say why I feel we can deliver the highest level of care, compassion and respect, is something I never get tired of doing. My philosophy is to treat others how you would want to be treated yourself and this is one of the attributes that I look for when recruiting potential CAREGivers. I have benefitted from my nursing background (qualified in 1984 ) and after bringing up four sons , found studying Psychology , not only interesting but a useful tool , to help others. Communicating effectively is vital and to be able to understand people, means better more meaningful relationships. I moved from Bishops Stortford to Mildenhall in Suffolk in 2014 and chose to do the 140 mile round trip in order to continue my fulfilling job in making people know, how we can make a huge difference to those that need us.
Lisa Moye - Care Co-Ordinators
Lisa is one of our Care Co-ordinators, She has been working in the care industry for over 10 years as both a Carer and a Co-ordinator.
Lisa's role is key in ensuring both clients and CAREGivers are happy with the service. Lisa is involved in meeting and understanding the interests and personalities of our CAREGivers commencing at induction training. She takes a keen interest in all new clients to enable her to understand the background and activities that clients enjoy and what support they would like from their CAREGiver when they are together, this ensures the smooth beginning of a relationship, one of trust and honesty between client and CAREGiver.
Sharon Sanford - Client Experiences Office 
Hi im Sharon Sanford , I have been working for Home Instead since February 2014. At first I started as a CAREGiver and now have taken on the role of Client Experience Officer here at East Herts. I love working here at Home Instead, my job is meeting new clients with thier family who have all different needs. I joined Home Instead Senior Care as the ethos and values are similar to my own; providing person centred support in a caring and compassionate manner. This has a positive response to the person receiving the support whether it is through companionship, homehelp or personal care. I pride myself in providing excellent, tailored support to meet the individual needs and I am looking forward to meeting and supporting clients within the East Hertfordshire.
Megan Spurgeon - Administrator 
Hello there my name is Megan and I am the Administrator for the East Herts and Uttlesford office.
My job as the administrator includes answering the telephone and dealing with client and CAREGiver enquires. I also help my colleagues in preparing paper work for service call's and I also help write up care plans for new clients that come on board. I also do card payments. I try and aim to help as much as I can and to transfer your calls to the relevant people. I love working for Home Instead Senior Care and the ethos of Home Instead means so much to me professionally and personally and we do try and promote each individual's independence and we match the CAREGivers perfectly with the clients that we have on board already.
Frances Robinson Community Service Representative Officer
Since joining Home Instead Frances quickly fell into the role of CAREGiver and thrived in this environment. Frances' passion, enthusiasm and good written / communication skills were quickly identified by the office team which lead us to offering Frances the position of Community Service Representative Officer working alongside Jo Bastick, Frances, goes out into the community to promote a company.
I am looking forward to building new relationships within my community, to develop marketing and promotional activities and to help build the business even further.
Claire Goddard - CAREGiver Experiences Support Officer
Hi my name is Claire. I joined HISC September 2014 as a CAREGiver, a job I quickly grew to love. In October 2017 I was lucky enough to take up a senior care role which splits my time between training, carrying out spot checks and supporting our new CAREGIvers while still spending time with clients as a CAREGiver.
Sarah Golder - Client Experiences Support Officer
I joined Home Instead in August 2015 with having two years previous experience in domiciliary care.
Whilst greatly enjoying this role I then had the opportunity to become a Senior CAREGiver in March 2016, which means I now have the privelage of not only being able to deliver care to our clients but also being involved further with the clients and their families in the way of completing QA's and Service Reviews/calls to help ensure we are consistently delivering the best service possible and enhancing the lives of our clients. I also work alongside the other senior caregivers with the on call phone during out of hours assisting carers and clients if needed and I am looking forward to beginning another new part of my senior role in networking in my local area.

I enjoy that I have the opportunity to work with so many fantastic clients including the elderely and those with learning difficulties in which I have done so many lovely activities including taking them to the theater, circus, farms, strawberry picking and so many more.

I have now completed my CQF (NVQ) level 2 and 3 in Health and Social Care, have my City and Guilds in Dementia care, certificate in End of Life Care and am looking forward to my future learning oppurtunies.
Stephen Craston - Client Experiences Support Officer
Stephen joined Home Instead in 2009 after thirty or more years working in a corporate business environment, predominately spent in this country but also several years abroad. Bilingual in English/French Stephen has worked in a variety of sales and marketing management roles before deciding he wished to make 'a radical change' in his life. Being a sociable, people orientated person the domiciliary care world was Stephen's deliberately chosen destination, and for the past seven years he been very happily engaged delivering a range of care services to a host of Home Instead clients, before latterly at the end of last year 2016 taking up senior care role duties as a Client Experience Support Officer, a multi-faceted job which Stephen says should make much more of his experience, skill sets and talents whilst carrying on what he enjoys most, caring for others.
Katrina McAleer - Client Experiences Support Officer
Kat joined Home Instead Senior Care as the ethos and values are similar to my own; providing person centred support in a caring and compassionate manner. This has a positive response to the person receiving the support whether it is through companionship, home help or personal care. I pride myself in providing excellent, tailored support to meet the individual needs and I am looking forward to meeting and supporting clients within the East Hertfordshire area.
Gemma Murray - Client Experiences Support Officer
Hi, my name is Gemma.I started working for HISC in July 2014 as a caregiver. I started this job as it allowed me to work flexible hours to still spend time with my son, and because I felt I could help make a difference in people's life's. I quickly grew to love this job and have very good connections with a lot of clients. In my time at HISC I have managed to get a number of qualifications to help me further. I have NVQ LEVEL 2 in Health and Social care, level 2 in principles of dementia care, City of Guilds dementia care and end of life care. About a year and a half ago I was lucky enough to take on the role of a senior caregiver which still allows me to spend time and care for my clients which I love. I carry out spot checks on staff, QA'S with clients and some of their families which is also nice to keep families involved with their loved ones care.
Billy James
I'm Billy James
My role is the social media administrator for Home Instead Senior Care East Herts and Uttlesford, I joined the business in October 2016. My job is to make sure that all Social Media post are all up to date. Making sure all CAREGivers and the public have the correct information, I also handle all out going post for Home Instead, Over the last 8 months i have gained a lot of experience and gained confidence in continuing my carer pathway that I'm on. The team are all fantastic to work with.
ps. if you want a tea ask for me.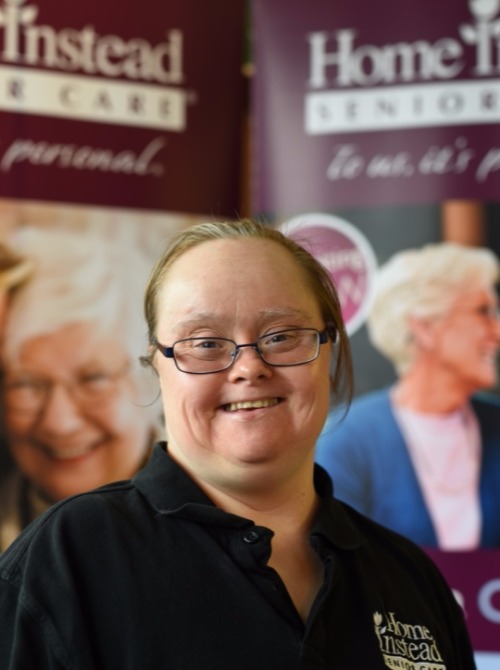 Vicki Smith
My name is Vicki Smith (Admin Support). I really like working for Home Instead Senior Care. I really enjoy working here in the office. My dream is to work in the office and I do lots of jobs here such as making tea and coffee. All the staff in the office are nice, great people to work with. I enjoy it very much and I do photocopying, washing up and drying the cups, listening to interviews and it is a really great and lovely office. Sometimes I do cleaning in the office I would like to have 2 days working on Wednesdays and Fridays at Home Instead. I really like filing work and I am really happy working for Home Instead. I want to learn more about the company Home Instead Senior Care and I really like working hard. Home Instead is a great company to work for in the office.
Our CAREGivers
We have a fantastic team of committed, professional, reliable and compassionate CAREGivers. Many of our team draw on their own personal experiences to encourage, assist, and stimulate our clients over a wide range of daily activities that help improve their quality of life and help maintain as much independence as possible. Home Instead's ethos is to 'change the face of ageing' and it is with extreme passion and commitment that we are here in your local community. We are always looking for people with these qualities to join our team. We have an on-going, varied, programme of education and training specifically designed for our CAREGivers which is far in excess of the minimum standards required by the CQC. We believe that it's crucial to invest in the development of our CAREGivers and show them that they are valued as we feel this then enables them to provide the very best care to our clients. Our CAREGivers are fully employed by us, we don't use agency staff. We are uncompromising in our insistence for 6 references - 3 professional & 3 personal - and a clear, enhanced DBS. We then carefully match the CAREGivers with a client taking into account mutual interests and backgrounds, doing our utmost to ensure compatibility, hoping it will be the beginning of a beautiful friendship
If you feel you have what it takes to be an exceptional CAREGiver please call one of our team on 01279 721443 or 01920 897355 email info.eastherts@homeinstead.co.uk to find out more.
Mowgli - Office Support
Hi I'm Mowgli,
Woof woof woof.
Translated means, I love being part of the Home Instead Team.