Meet Our Office Team
(From Left to Right) Gay Cross - Office Manager, Georgia Highet - Field Supervisor, Jane Patey - Care Manager, Jo Lewis-Harding - Care Coordinator, Julie Bull - Field Supervisor and Last but not least Philip Keohane - Owner.
Owner Philip Keohane
I worked in the health-care sector for over years providing support services to hospitals and residential care facilities before becoming a Home Instead Senior Care owner in 2011. My priority has always been to provide the highest quality possible service to my clients, doing so on their terms. Some of my most rewarding experiences have come from working with clients, understanding their needs and then providing them with the solution they needed.
I was attracted to the ethos of Home Instead after seeing how Home Instead can make a real difference to people's lives in their own homes, as well as providing employment opportunities here in my local community in Reading. My role is to build relationships with local providers and organisations; look for opportunities for Home Instead to contribute to the local community and to support my care manager in building a team of well trained and highly motivated CAREGivers.
I hope to be able to build on these skills in this far more important role with Home Instead, enabling me to bring about real improvements in people's lives.
Gay Cross - Office Manager
I joined the Reading office of Home Instead in March 2012 as I was looking for a new career challenge in an environment where I could make a really positive impact on the lives of others.
Prior to joining Home Instead I had worked previously in a number of financial roles both locally in the Reading area and across the UK.
What excites me about Home Instead is their dedication to help the elderly to stay in their homes longer. I have met some wonderful people, clients and other CAREGivers and enjoy working with them very much.
Training is a key part of our development and my manager is very encouraging and supportive for me to take my Diploma exams.
We are growing steadily day by day and I am excited to be part of such a dedicated and friendly team. I am looking forward to the new challenges as we grow.
Jane Patey - Care Manager
I joined the Reading office of Home Instead Senior Care in March 2014, having spent over 10 years in similar roles with other care providers in the Reading area. My reasons for moving to Home Instead really centred on the commitment that everyone has to doing their best for the people we look after.
I am responsible for looking after all our clients and ensuring that they receive excellent customer service and that we deliver beyond expectations when we are out working for them. I also have overall responsibility for ensuring that our team of staff is well trained and motivated to deliver exemplary service to our clients across Reading and West Berks.
I am very passionate about my work and take great pride in helping to make a difference to other people's lives. I am committed to building long term working relationships with all my clients, their families and our wonderful team of CAREGivers so that we continue to meet their needs and expectations.
When I am not working I like to spend quality time with my family and enjoy watching my grandson grow and develop.
Julie Bull - Field Supervisor
Hi, I'm Julie I joined Home Instead Senior Care Reading in July 2014. I have been in the caring profession for over five years I started at Home Instead as a CAREGiver and I have now progressed to a field supervisor. I work alongside the Care Manager to support the clients and CAREGivers to deliver a great service. At the end of the day I'm glad that I have made the clients happy. I have just become a grandmother for the first time and love spending time with him and my family. Twice a year we meet up with my husband's ex-army Regiment. I also enjoy playing darts.
Georgia Highet - Care Co-ordinator
Hi, I'm Georgia and I'm new to the team. I'm very excited to be a part of Home Instead Senior Care Reading! I have previously worked in a Care Home where the majority of the Clients lived with Dementia and previous to that worked in Domiciliary Care. Spending quality time with my family is a key part of my life so ensuring that others can do so too is important to me. I enjoy keeping fit, taking long walks and accompanying My Nan on regular days out. I am looking forward to really getting stuck into my future with Home Instead!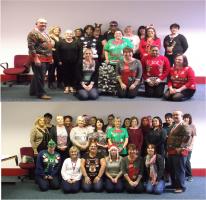 Our CAREGivers
We are fortunate to have a fantastic team who share our passion for enhancing the lives of the people we assist. They come from a variety of backgrounds and life experiences, have differing interests and hobbies, but all gain immense satisfaction from touching the lives of the people they come into contact with.
If you would like to join them, please get in contact with us.