Wayne Harper - General Manager
Wayne Harper is the General Manager of Home Instead Northwich and Knutsford and is responsible for successfully directing and implementing the business strategy and fulfilling the team's goal of being recognised as the best home care provider in the UK.
Our CAREGivers
We have a fantastic team of committed, professional and reliable CAREGivers. Most of our team have had personal experiences of caring for a loved one so they draw on this to encourage, assist, and stimulate our clients over a wide range of activities. Our CAREGivers aim to help improve our Clients quality of life and help them maintain as much independence as possible. We are always looking for people with these qualities to join our expanding team. If you would like to enquire about becoming a CAREGiver you can call the office on 01606 800101. So come on make that phone call, ring us for a chat.
Jay Dutson - Registered Care Manager
Hi my name is Jay Dutson and I was privileged to join Home Instead in June 2018 as the Care Manager in the Northwich and Knutsford office.
As Care Manager I have the overall responsibility for the service to all of our clients and CAREGivers who use the service and have over 20 years of experience in a variety of settings whilst holding registration with the Care Quality Commission since 2009.
The main reason that I am proud to be working for Home Instead is the inclusiveness, ethos and client focus throughout the organisation. With this in mind, my team can deliver a quality service throughout the local community and 'Change the Face of Ageing' and being recognised as the best home care provider in the UK.
Michelle Lawson - Field Care Supervisor
My name is Michelle Lawson and I have been at Home Instead since 2011. I started as a Caregiver and progressed to where I am now as Field Care Supervisor.
Part of my duties are to complete consultations, service reviews and quality assurance. I am also the manual handling trainer and match clients to Caregivers. Having worked in the care sector for 18 years for Care homes and local authorities, I bring to Home Instead a broad range of experience and knowledge.
I am passionate about my work at Home Instead and want to help people remain as independent as possible within their own home and 'Change the Face of Ageing'
I live locally with my partner and 2 children and I enjoy spending my spare time with family and friends. I am an animal lover so enjoy long walks with my dog and keeping fit.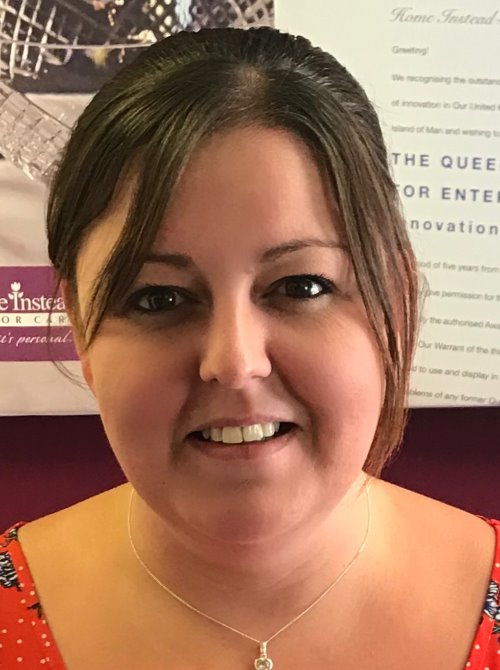 Shelly Denne - Field Care Supervisor
Hi my name is Shelly Denne. I joined Home Instead In November 2016 as a CAREGiver and quickly realised that I wanted a full time position working in the office and being more involved with my clients. I became the Field Care Supervisor in March 2017 and thoroughly enjoy my role in client services.
My duties as field care supervisor include consultations, service reviews on a regular basis and quality assurance visits. I am also the CPR trainer for the CAREGivers.
I am passionate about looking after my clients and keeping them safe and in their own homes ensuring they are keeping their independence and that we are changing the face of ageing.
I like to spend time with my daughter and my dog when I am at home and we go out on regular walks together. I am a very sociable person and enjoy seeing my friends on a regular basis.
Hannah Blades - Client Co-Ordinator
My name is Hannah Blades and I have been at Home Instead as the Client Co-ordinator since December 2016.
I went to University to study fashion for 4 years and gained my BA (Hons) degree in Fashion Design & Technology. I lived in India for a year and upon my return, I got my first Job at Home Instead as a Caregiver in 2013 and found what I really loved to do.
I moved on to a new challenge in 2015 to work with young adults with Learning difficulties but when the role became available for the Client Co-ordinator at Home Instead I went for it.
Originally from Peterborough, I moved to the Northwich area 15 years ago and have never looked back. I live with my fiancé and when not at work I enjoy spending time with family and friends and going to watch Wigan Warriors.
Nikki Hartland - Training Coordinator
My name is Nikki Hartland and I have been with Home Instead Senior Care since 2012. I started off as a CAREGiver fitting in my hours around two young children. Now they are a bit older I work full time in the office as the Training Coordinator. I am responsible for training all the new CAREGivers that come on board to make sure they have the necessary skills to deliver high quality care for our clients as well as ensuring that existing CAREGivers have ongoing training throughout their career with us. I also carry out Support Visits, Medication Competencies, Appraisals and Supervisions.
Originally from Gloucestershire, I made the move up North at the age of 18 and graduated from Salford University in 1997 with a degree in IT and French. I went on to work as an IT Trainer for 9 years before taking time out to have a family. When I joined Home Instead I had no idea how much I would love what we do. I am passionate about the care that we provide to our wonderful clients and feel honoured to be part of a team that is truly making a difference to people's lives every day. Training something I am so passionate about is a joy to do – and I love that I'm training again after my time out!
When I am not at work, I am a single mum to two very active boys. I spend as much time as I can with them and the rest of my family. I am a big football fan – there is always a game on in our house as we all support different teams which keeps things interesting. We love days out to the countryside or the coast and travelling to see friends.
Nikki Mercer - Recruitment Administrator
Nikki supports with the administration of recruitment, retention and training of our CAREGivers.
I have been with Home Instead Northwich & Knutsford since 2013., I started as a CAREGiver and I am now the Recruitment Administrator.
I have a background in Holistic Therapies and Sports Massage so I have always worked within the community. I am also proud to have volunteered for The Witness Service and Victim Support for many years.
I love my present role and feel able to convey how enjoyable and rewarding the role of CAREGiver is.
Johanna Dunning - Office/Finance Administrator
I came to Home Instead Senior Care in March 2014 because they really are different; they have an outstanding commitment to both clients and CAREGivers!
I spent five years learning British Sign Language and used to use it regularly in my work, now it's just when I catch up with old friends.
When I am not working I am usually with my three children, two cats and little Shih-tzu!
I first started working in care in 1996. I have worked in various sectors of the care industry and in schools - both mainstream and special needs and now I look forward to going work every day for Home Instead.
Molly Hubbard - Senior CAREGiver
My name is Molly Hubbard and after having cared for my Nan full time for 2 ½ years who had dementia, this encouraged me to have a big change in career from being a fully qualified hairdresser to start my journey to become a Caregiver.
I started with Home instead in 2014 and I am very passionate about working with the clients to keep them in their own homes. I quickly worked my way up Senior Caregiver and this involves client quality assurance, service reviews, auditing, medication competencies and support visits with the Caregivers and this I really enjoy.
After the birth of my first child in August 2017, I started back part time in February 2018, carrying on as a Senior Caregiver.
Out of work, I like to spend my spare time with my family and friends.