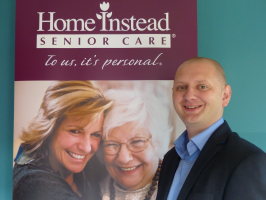 Jonathan Davies - Owner
I was my father's primary carer for a number of years whilst working full time in television and film post production, and so I know first-hand how important getting the right personalised, dependable support for your loved ones is.
I want to help elderly people maintain their independence longer and stay where they are familiar and comfortable, and as such I opened this new office of Home Instead Senior Care in January 2014 with the aim of providing the highest quality of care available.
Outside of work I enjoy travel, food, music and sport, but mostly I love spending time with family and friends. I have recently become a father for the first time to a beautiful baby girl and I'm really enjoying parenthood.
Stephanie Davies - Owner
I am Jonathan's wife Stephanie, and I joined Jonathan at Home Instead Senior Care in March 2015. Previously I have had a successful career as a Bank Manager and having supported many elderly customers and their families through differing financial situations over the years. I look forward to bringing this experience to Home Instead Senior Care and our clients. Please look out for our free public education workshops on fraud prevention (Think Jessica!) and Alzheimer's CARE training where we are pleased to share knowledge, hints and tips to help increase the confidence of those attending.
What I particularly like about Home Instead Senior Care is the commitment to a minimum hour visit. We don't believe that a caring, empathetic service focusing on independence, choice and dignity can be delivered in a shorter timeframe. Seeing the same CAREGiver for at least an hour on that regular basis also allows a more meaningful relationship to develop, providing social interaction and companionship for our clients which is often something valued highly.
When I'm not working I enjoy looking after my delightful baby girl, reading, travel, and I love to cook for family and friends.
Jen Wright - Care Manager
Hi my name is Jen Wright. I have worked in the care industry for 15 years and I am passionate about the career I am involved with. I've recently joined Home Instead after reading about their ethos and recognising a quality based care company in the services they deliver.
Working for Home Instead Senior Care allows me to manage a caring service where people are put first, and their individual needs are paramount to us. I believe in continuity of care and respecting clients, allowing choice and retaining dignity which comes naturally within our service.
We have fantastic CAREGivers who have undertaken a robust recruitment selection prior to starting with HISC, followed by a thorough Induction Programme. They then go on to have specialist training in areas such as dementia as their experiences develop.
I get job satisfaction from working with individuals, watching them develop themselves and make positive differences to the clients they work with.
Grant Williams - Administrator
I am new to the care industry and have joined Home Instead Senior Care after finishing full-time education. I come from a background of casual-based hospitality roles where I have worked as Bar Staff, a Plate Waiter as well as a Match Day Host at a local Sports Venue all of which had a strong emphasis on customer service.
I was overjoyed to be offered the opportunity to join the Home Instead Senior Care Cowbridge Pontypridd and Caerphilly team as I had researched the company and was inspired at the ethos as well as the positive comments found about the service that they provide to the community. Areas that I was particularly impressed by was the focus on Client/CAREGiver compatibility as well as the consistency of clients receiving the same CAREGivers each visit.
As an administrator I am the first point of contact with any callers, helping direct their call to the relevant staff member and helping to maintain the files that we hold at the office as well as providing assistance with all Client and CAREGiver enquiries. I strive to help Home Instead in any way I can in order to provide the best possible service to the community.
I cannot express how proud I am of the opportunity that I have been given, and to be asked to contribute to a fantastic company and its outstanding team is an honour.
In my spare time I enjoy travelling, watching movies, listening to music, playing video games, keeping up to date with all technology as well as taking an interest in sports.
Catherine Johns - Team Development Officer
I have previously worked in many team focused roles where motivating and supporting the team by providing guidance, training and support was key.
I have overseen training new employees on systems and procedures and I have always been asked to perform a training and guidance role as I am patient, clear and concise when explaining to others.
I understand the importance of the individual care that Home Instead provides and love how we go that extra mile to cater to all aspects of the individual's needs. It is a privilege to work for an award-winning company that shows the compassion and care that I would want for my own family member.
In my spare time I like to try new things which has gone from bungee jumping, sky diving and wing walking to more relaxed activities recently like roller blading and camping on a pig farm.
I am hard working and enthusiastic and I am very excited about my new position in Home Instead and I'm looking forward to working with the rest of the team.